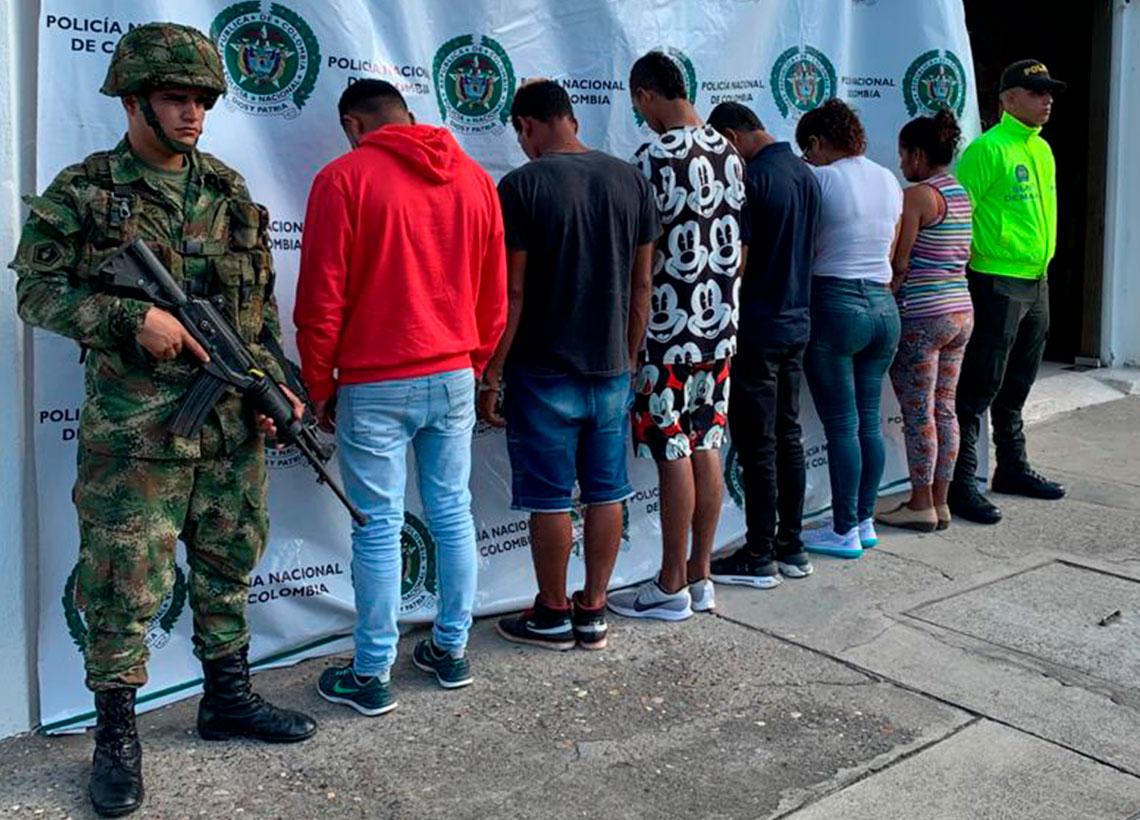 The individuals, including their ringleader, belonged to the Criminal Component of the Luis Alfonso Echavarría Substructure of the GAO "Clan del Golfo".
Within the framework of the Major operation Agamenon, soldiers of the Campaign Artillery Battalion No.2 of the Fifth Brigade, unit of the Second Division, in coordination with the SIJIN (JUDICIAL POLICE) of the Magdalena Medio, captured six individuals and recovered a minor of age, allegedly belonging to the Criminal Component of the Luis Alfonso Echavarría substructure of the Organized Armed Group, GAO, Clan del Golfo.
The events were reported in Barrancabermeja, in the department of Santander and Necoclí, in the department of Antioquia, where the authorities found four men and two women, including alias 'La Tuerta' or 'La Patrona', presumably the ringleader of the area in the petroleum port, who had 11 Years in the organization. The others were known by the aliases of 'Carballo', 'El Negro' or 'Chocolate', 'El Nuevo' and alias 'Leidy'.
According to the investigations, these people would be responsible for conducting the organization of the execution of selective homicides, collection of money extorted from entrepreneurs and kidnapping of merchants in the region.
They in the same way controlled the routes to transport alkaloids to different departments and municipalities, they in the same way controlled the traffic and commercialization of narcotics in the different municipalities of Barrancabermeja, Santander, and the municipalities of southern Bolívar.
The individuals and the minor recovered, were put into custody of the authorities. Now they must face charges of conspiracy to commit crimes for the purpose of homicide, manufacturing, traffic, carrying or possession of firearms, accessories, parts or ammunition and homicide.
These captures are an important blow dealt to the structure of the GAO Clan del Golfo, because it loses one of its leaders. The capacity to carry out terrorist operations against the Security forces, the State Infrastructure and the civilians in the municipalities of San Pablo, Bolívar, Barrancabermeja and Puerto Wilches, in Santander. In the same way the command and control of the Luis Alfonso Echavarría  Sub-Structure is directly hit, demonstrating once again, the commitment of the Bicentenary Heroes to safeguard the tranquility and security of the region.
Source: Fifth Brigade - National Army