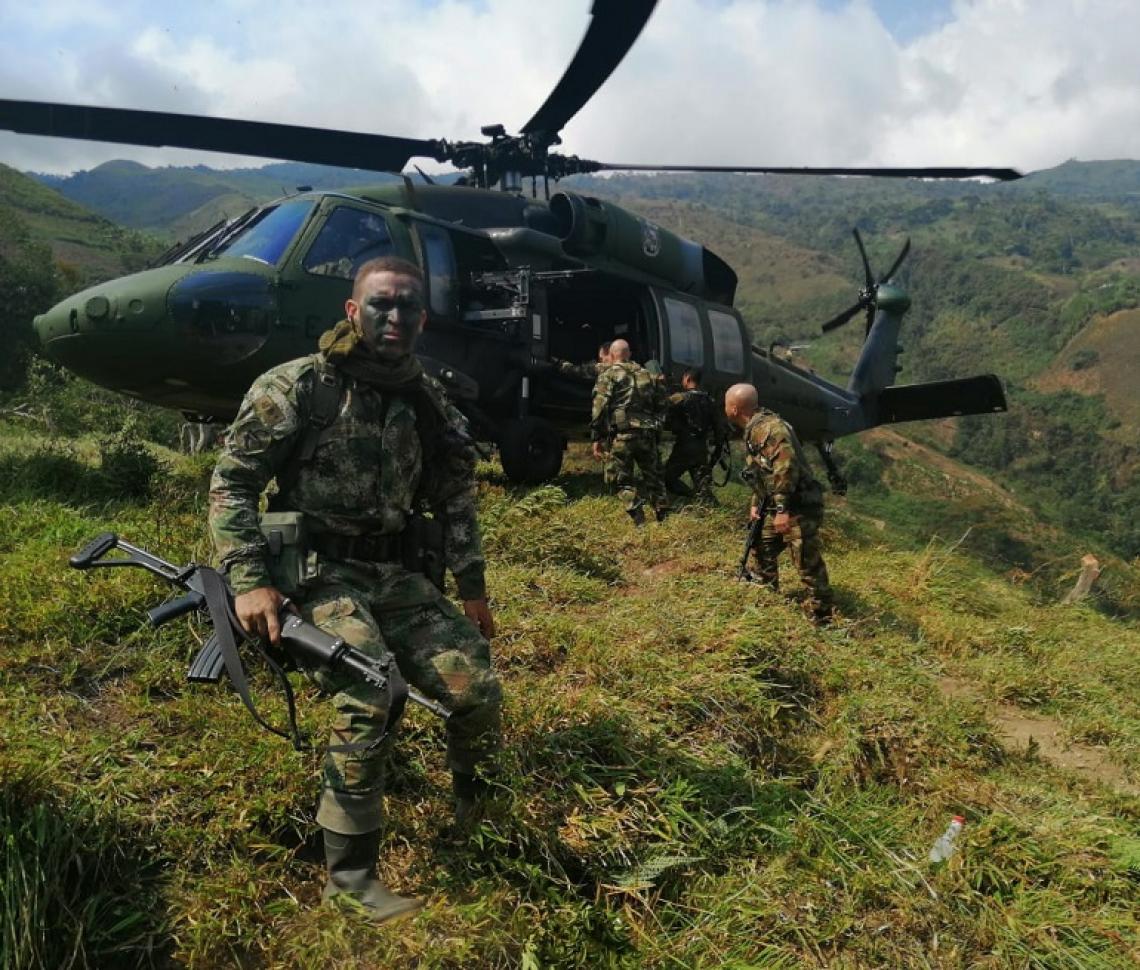 In joint, coordinated and inter-institutional military operations, conducted by troops of the National Army, the Colombian Air Force, the National Police, the Attorney General's Office and in response to the early alerts No. 029 of 2018 and 004 by 2020, in recent hours, two members of structure 18 of the GAO-r (Residual Organized Armed Group E-18) died in Ituango, in the department of Antioquia.
Thanks to the information provided by the Civic Participation Network, the troops arrived at the Camelia Baja village of Santa Rita municipality, where they engaged a firefight with members of this structure, which left the two deaths and the discovery of weapons.
One of the individuals was identified as Wbeimar Elías Monsalve Palacio, alias "Patoso," second ringleader of the Residual organized armed group E-18, financial coordinator and responsible for forced recruitment. He had extensive experience in the coordination of extortions, kidnappings and control of illegal incomes in the hamlets Algarrobo, La Esmeralda, Conguital and the municipalities of La Granja and Badillo, bordering hamlets of the department of Antioquia and in the department of Córdoba.
This individual in the same way had the mission of expanding the area of ​​interference of the structure in alliance with other illegal organizations. He was wanted with arrest warrant for conspiracy crimes aggravated with the purpose of extortion, homicide and traffic of narcotics in and aggravated homicide and illegal carrying of firearms.
Patoso started his criminal record in 2011 with the kidnapping and murder of two members of the Security forces. That same year in the sector El Nueve, in Tarazá, Antioquia, he murdered three people. In 2012 he was responsible for the blasting of a transmission tower in the municipality of Campamento, in Antioquia, and in 2014 he participated in the burning of a vehicle in San Andrés de Cuerquia, in Antioquia.
Military operations continue in the area to find the whereabouts of the other members of this GAO-r (E-18), which was significantly damaged and loses capacity in command and control to conduct terrorist operations and illicit activities.
Source: National Army