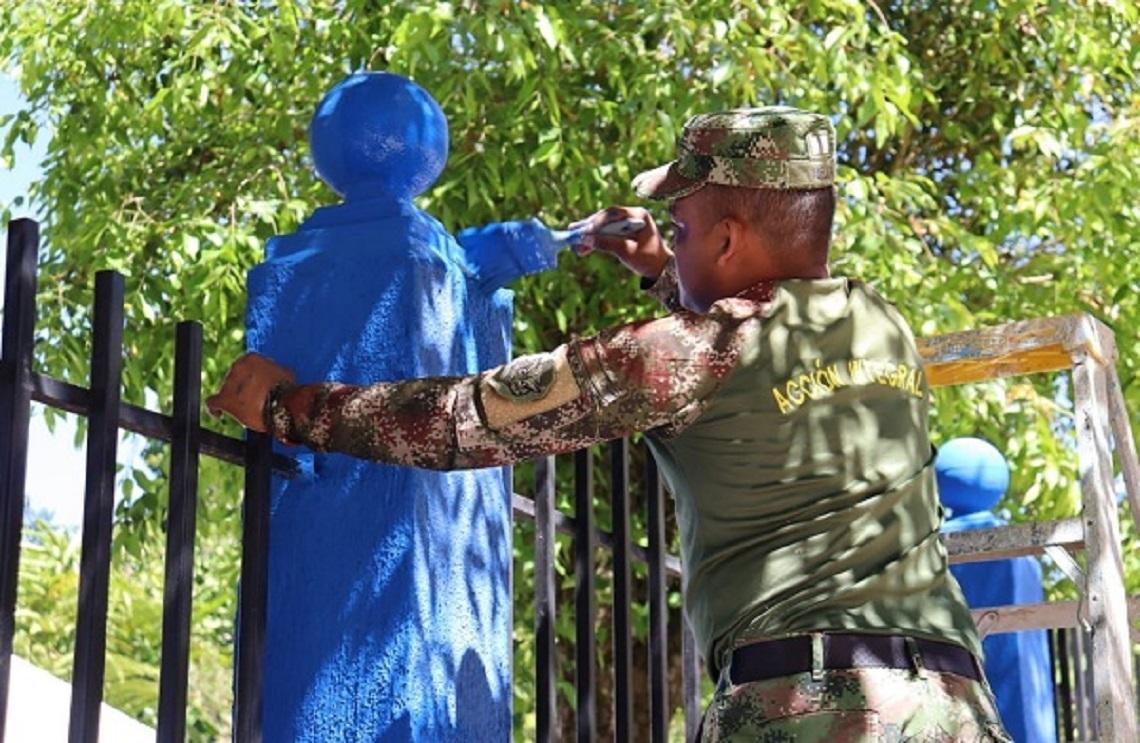 It was an effort of soldiers and public and private institutions that consolidated the dream of parents, teachers of indigenous people, which will lead more than 900 students to return to classes in appropriate conditions.
The National Army reached Pueblo Bello, Department of Cesar, through the First Division, the Tenth Brigade and the Battalion of Comprehensive Action No.1, Engineer Battalion No.70, who, upon realizing the situation of the school in this municipality, launched this initiative that sought to provide children with a present at the beginning of their school year.
Under this purpose, the support of the Community Foundation La Milagrosa, Association and Council of Parents of Family, the Company SG Civil Engineering, Afinia - EPM Group and Rotary International Club was sought, who joined this noble cause through the donation of the necessary materials to give this school a new image; the soldiers motivated saw the change in the school, and thought about future students and their new opportunities.
The activity was chaired by Brigadier General Erick Rodríguez Aparicio, commander of the First Division, who said: "Today, the children find this great surprise, their school is completely renovated, with suitable facilities, the satisfaction of us, soldiers, is unimaginable; more than an operation it is a work that inspires to move forward;" he also distributed more than 50 school kits.
The members of the Military Forces were in charge of carrying out the labor and, among these activities, they restored desks, painted the interior and exterior of the institution together with the people and did a cleaning activity for the formal presentation at the Magola Hernández Pardo school, who in the same way counted on the work of Mr. Mayor Danilo Duque Baron, parents, the rector of the school, students and community leaders.
"As soldiers of Colombia, we are proud to contribute with this type of operations that contribute to the social fabric, especially in the most remote communities of the country. There is no greater satisfaction than to see the future of Colombia, in better conditions and, of course, what better way than to do it through Comprehensive Action, on the eve of our sixth anniversary," said Colonel Yusy Hovanny Cruz Carreño, commander of the Comprehensive Action and Development Support Command.
The soldiers of Comprehensive Action throughout the country continue to work for the people contributing to the social development and education of Colombians.
Source: Press - National Army