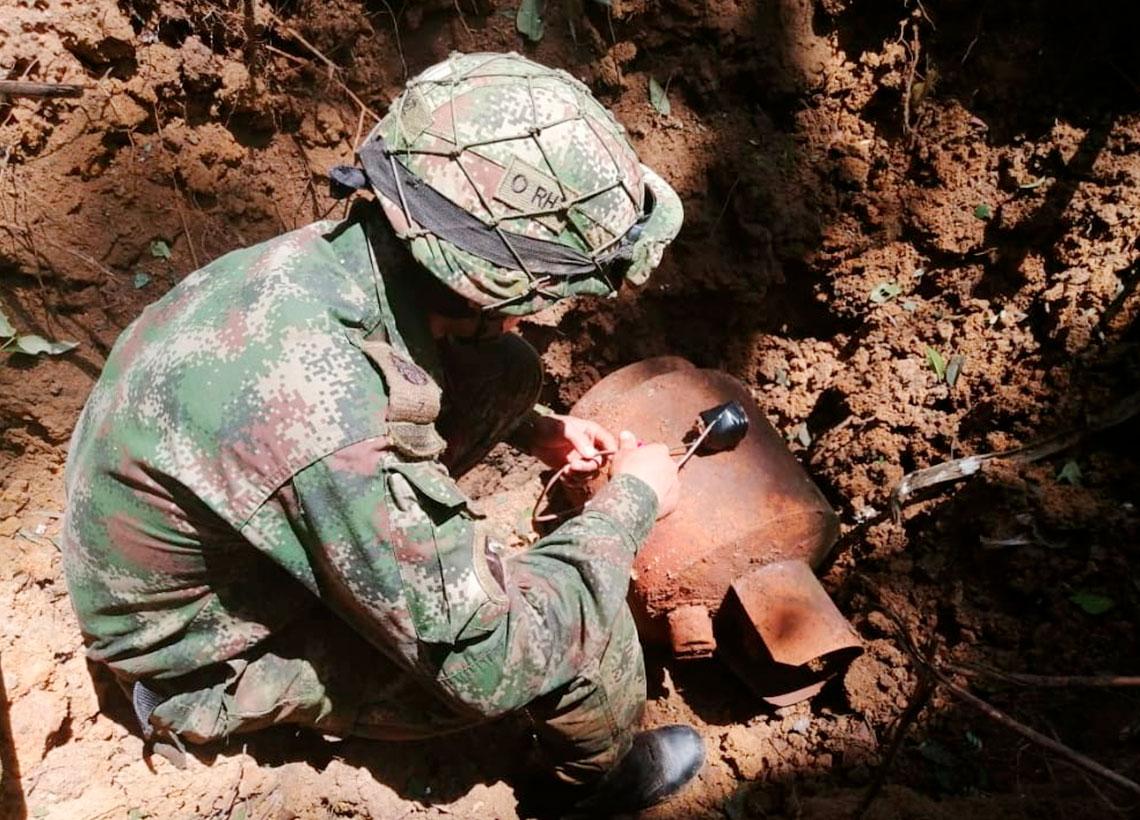 The wooden structure had 295 elements for the rudimentary manufacture of explosives, with which the Residual Organized Armed Group (GAO-R) Estructura Primera intended to attack the Military Forces and civilians, and in the same way to destroy an archaeological wealth of the country and heritage of the department.
In territorial control operations, carried out in the rural area in the department of Guaviare, framed in operation José Inocencio Chincá, under the guidelines of the Bicentenary plan Heroes of Freedom, troops of the Twenty-second Jungle Brigade of the Fourth Division of the National Army, located in the village of La Lindosa, municipality of El Retorno, an illegal hiding place with material for the manufacture of improvised explosive devices, belonging to the residual GAO Estructura Primera.
After receiving intelligence and with the support of the anti-explosive canine, the military personnel in the area arrived at the 24-square-meter wooden structure and plastic roof containing more than a ton of Anfo explosives, stored in barrels. In addition 53 gas cylinders of 25 kilos each, 210 metal tubes and 32 molds for the manufacture of rudimentary explosives were found.
Once the situation was known, the Explosives and Demolition Group (DELTA) activated safety protocols to neutralize and destroy explosive devices under controlled conditions, without causing collateral damage, taking into account that, according to information provided by the Marte group, every 100 kilograms of explosives can hit about 300 meters around.
Through intelligence it was established that these explosive devices would be used against the civilians and Military Forces that carried out work of eradication of illicit plantations in the territories. In addition explosives would hit the village La Lindosa, archaeological wealth of the department of Guaviare and a protected area of Colombia.
This year, 146 illegal warehouses and more than 500 improvised explosive devices have been located in the department of Guaviare and southern Meta, these elements violates human rights and international humanitarian law through the use of non-conventional means and methods of warfare expressly prohibited in the various international treaties and protocols.
Source: National Army News Agency