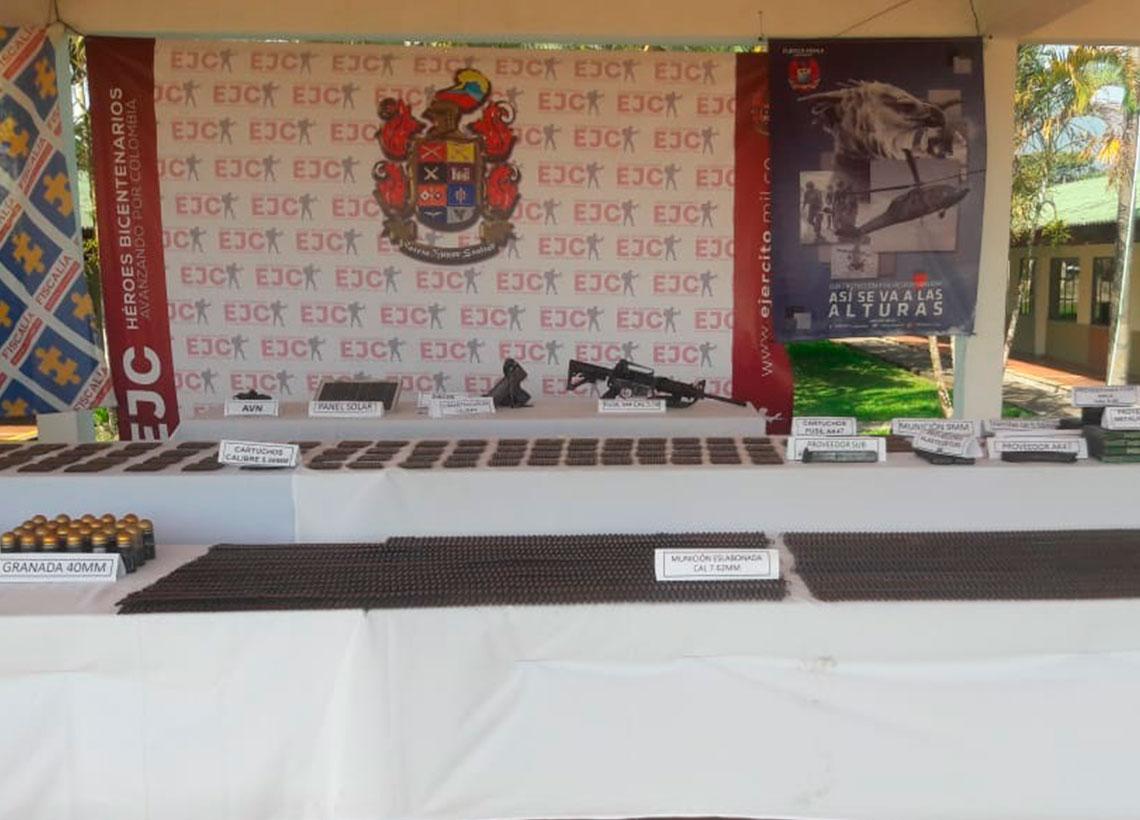 Through the Fortín military operation, it was possible to weaken the armed and logistics levels of the so called law and order group of the residual Organized Armed Group E-1, which commits crimes under the command of alias "Jhiovany".
In a military operation framed in the Campaign plan Heroes del Bicentenario, the Sixth Division of the Army with troops of the Twenty-Seventh Brigade, achieved the discovery of abundant war material, explosives, military accessories and communications material belonging to the residual Organized Armed Group E-1.
This operation, carried out jointly with the Colombian Air Force and interinstitutional with the Attorney General's Office, had military intelligence work and the collaboration of the community, which was essential to know the location of these individuals.
The operation took place in the Nueva Esperanza village, in a rural area of ​​the municipality of Puerto Guzmán, in Putumayo. Troops of the Infantry Battalion No. 25 General Domingo Rico, with the air support of the Mobility and Maneuver Battalion No. 6 of Army Aviation and the Air Combat Command No. 6, entered the area through an air assault operation which led them to take the bandits by surprise, who in their flight abandoned war material such as a 9-millimeter machinegun, an M4 rifle, 23 40-mm grenades, 13 metal magazines for M4 rifle, two plastic magazines for M4 rifle, 13 magazines for Galil rifle 5.56 caliber, 75 cartridges for AK-47 rifle, 1500 caliber 5.56 cartridges, two scanner radios, five short range radios, two hard drives, three multipurpose vests, 13 units of campaign equipment, 13 rudimentary tents (hammocks with camouflage fabric), four pixelated camouflage uniforms, an AVN, a GPS and a compass.
In addition to the material found, there was a wooden structure in the place, which served as a camp area and laboratory for the production of coca paste.
With this result, a serious blow was dealt to organized armed groups that commit crimes in this area of ​​the country, since the drug trafficking chain and the different illegal activities are directly hit, which become the economic heart of these illegal groups.
Source: National Army