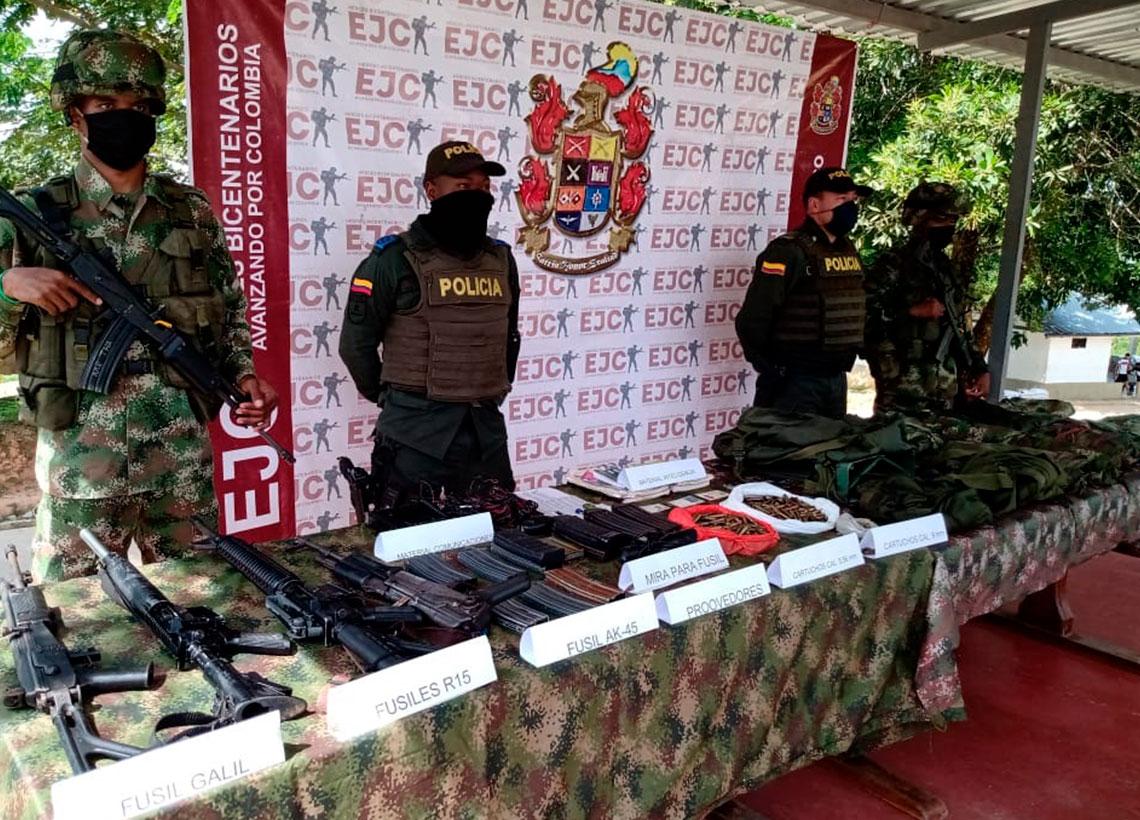 In combats held over two consecutive days against the José Antonio Galán division of the Darío Ramírez Castro front, 1,300 indugel units, 900 electrics detonators and 300 metres of security fuse were seized, with which they intended to manufacture around 2,600 anti-personnel mines.
Troops of the National Army, during military operations of offensive action in the department of Bolivar, following the recommendations of the early warning No. 052 of 2018, held a combat with members of the Dario Ramirez Castro front, of the Organized Armed Group (GAO) ELN, in Chaparral, rural area of the municipality of Santa Rosa, south of Bolivar
On the first day, they seized war material consisting of 320 kilograms of Anfo explosif, five ready-to-use improvised explosive devices, two R15 rifles, one AK45 rifle, one Galil rifle, 14 suppliers, one rifle scope, 121 5. 56 millimeter cartridges, 31 38 millimeter cartridges; in addition, 15 military quartermasters, a communications radio, a camp with capacity for eight people, notebooks and USB memories of importance to military intelligence.
During the second day of combat against the José Antonio Galán division, in the same municipality of Santa Rosa del Sur, explosive material was seized consisting of 1,300 indugel rods, 900 anelectric detonators and 300 meters of fuse.
With these explosives the terrorists of the GAO ELN intended to make about 2,600 anti-personnel mines to attack civilians and Military Forces. Improvised explosive devices are in the same way used in the illicit exploitation of mineral deposits.
These results are important in the struggle for the dismantling and neutralization of the ringleaders, alias Tuvia or Aureliano, in the northeast subregion; alias Leidy or La Mona, of the José Antonio Galán front; and alias Dilan or Niche, of the mobile company of Anorí. Troops also prevent terrorist attacks that they had planned, and the protests and demonstrations that they were promoting in the territory.
The found war material was destroyed under controlled conditions.
Source: National Army News Agency