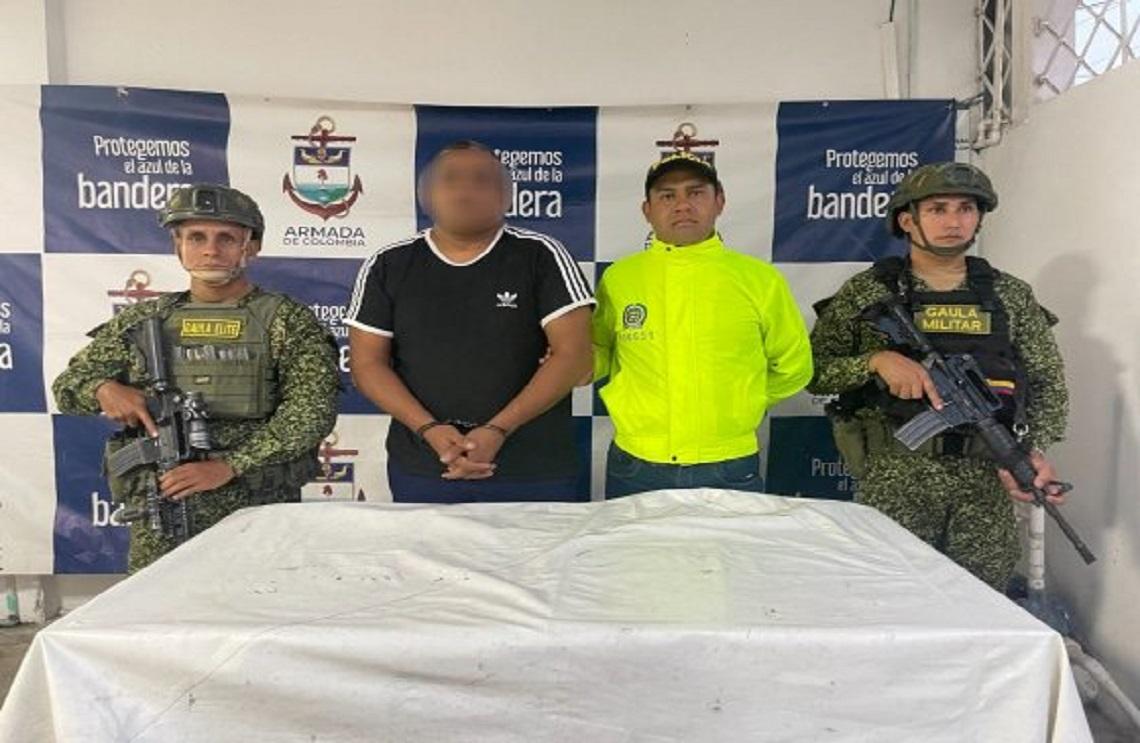 In an operation led by the Colombian Navy, carried out in coordination with the Colombian Aerospace Force, the National Police and the Attorney General's Office, it was possible to arrest alias El Costeño, who allegedly would be the main ringleader of the Nicolás Antonio Urango Reyes substructure of the Organized Armed Group, GAO, Clan del Golfo, in the village Cañito, of the municipality of San Juan Nepomuceno - Bolívar.
Within the framework of the Ayacucho Plan, through the execution of a unified ground operation of decisive operation, troops of the National Joint Military Elite GAULA (ANTI-EXTORTION AND ANTI-KIDNAPPING GROUP) No.1 and the Bolívar Military GAULA (ANTI-EXTORTION AND ANTI-KIDNAPPING GROUP), with the support of the DIJIN Life Group of the National Police and Navy Infantry Battalion No.13, guided by military intelligence information, arrested Roger Ariel Grandet Chavez, alias El Costeño.
The arrest was made in compliance with a judicial order issued by the First Municipal Court of San Marcos - Sucre, for the alleged crimes of aggravated homicide and terrorism, and manufacture, trafficking, carrying or possession of firearms, accessories, parts or ammunition of restricted and exclusive use of the Military Forces.
According to the investigations, alias El Costeño, in 2022, would have been the ringleader of the Manuel José Gaitán substructure and allegedly would be in charge of ordering terrorist operations within the framework of armed strikes. The arrested man was in the same way part of the most wanted list, since apparently he is accused for 21 homicides, as well as in the execution of the pistol plan and operations against the Military Forces in the department of Sucre.
Currently, this individual apparently worked as the ringleader of the Nicolás Antonio Urango Reyes substructure, which commits crimes in the department of Bolívar for more than eight years. El Costeño allegedly carried out different criminal activities in this criminal group, counting 44 records including 39 for the crime of homicide.
The man was put into custody of the authorities for his prosecution.
Source: Press – Navy of Colombia