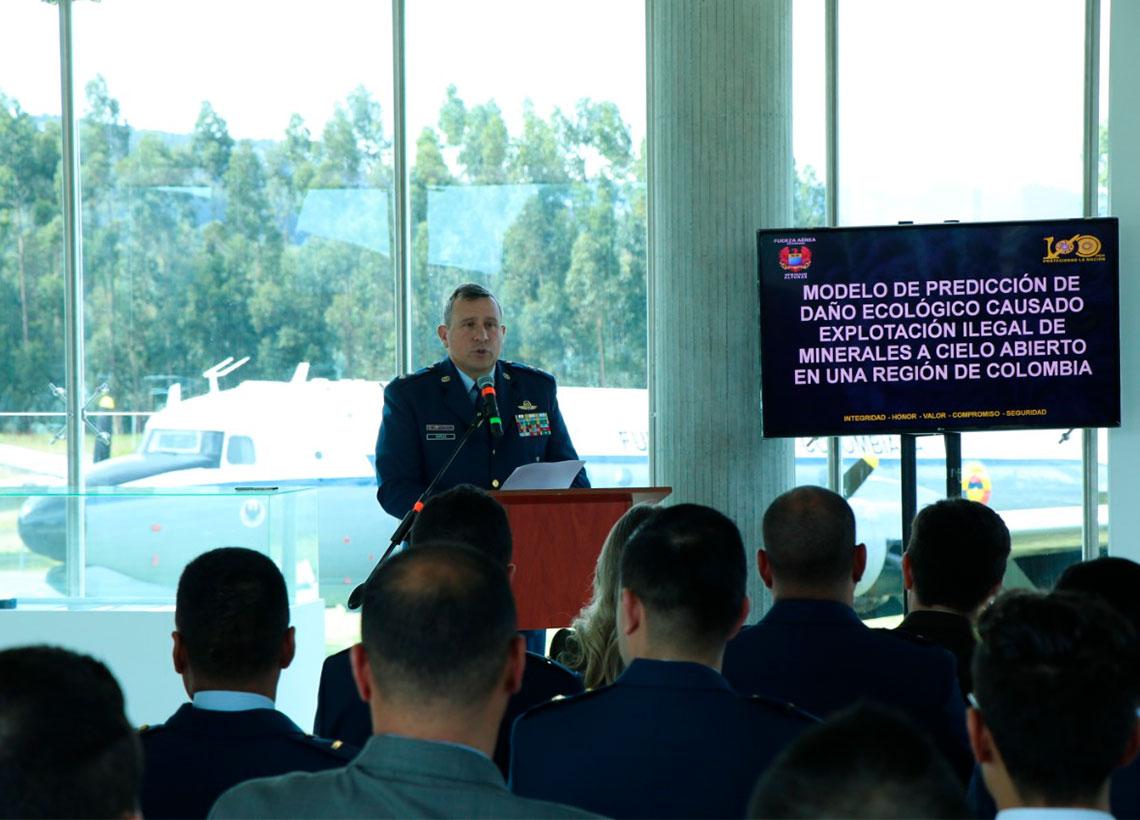 In the frame of the 100-year celebration of the Colombian Air Force, the model of prediction of ecological damage caused by the illegal mining, called the 'Delfos' project, was presented through the inter-institutional agreement with the District University 'Francisco José de Caldas'.
This project aims to protect the flora, fauna and water sources, considered as invaluable assets of the Nation and humanity. Brigadier General Pablo Enrique García Valencia, Commander of the Air Operations of the Colombian Air Force, presented the modules designed for the use of this new tool, which will be decisive to fight against the illegal extraction of mining resources.
Delfos is supported by three main modules, the first focused on the use of images through the air, space and cyberspace capabilities of the Colombian Air Force; the second module based on the implementation of artificial intelligence for the prediction of ecological damage, and the last one, contains the visualization of information through the web, a work that relied on the human and technical talent of military, engineers, academics and researchers who implement it, starting by a pilot project in the municipality of El Bagre, Antioquia, a population deeply hit by criminal mining.
This tool, which was presented at the facilities of the Colombian Aerospace Museum in Tocancipá, Cundinamarca, will led decisions to be made based on the alerts generated by the system, protecting the resources of the country.
Thanks to the definition of this digital model and the use of different algorithms, it is possible to analyze an area of ​​interest through a geographical viewer, which helps to conduct flight simulations and representations of the anthropic transformations of the terrain, using Aerial images taken year after year since 1985 that will be of great help to design fast, comprehensive and efficient responses, conducting strategies for the defense of the constitutional order, the protection of the lives of Colombians and their natural resources.
Source: Colombian Air Force