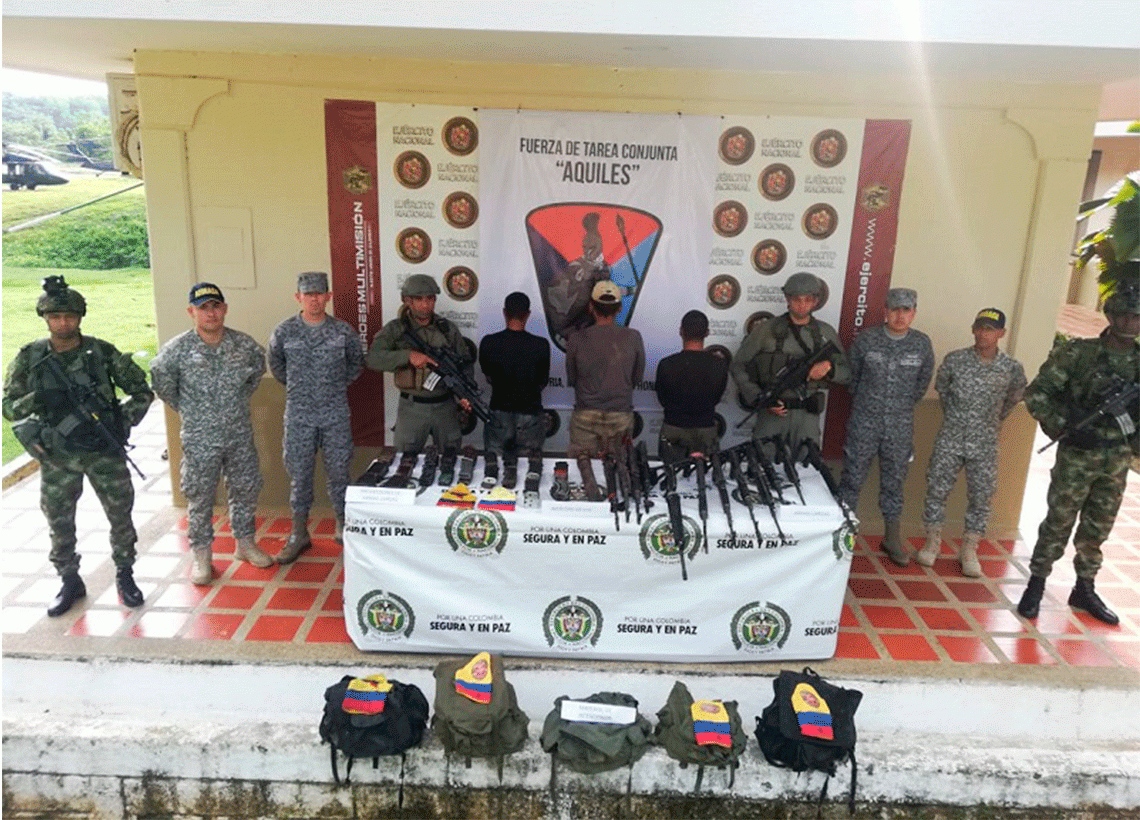 During a special joint, coordinated and inter-institutional operation, alias 'Congo', alias 'Kevin' and alias 'El Buho',, members of the Virgilio Peralta Arenas substructure, of the Organized Armed Group 'Los Caparros', were captured in the municipality La Caucana, El Porvenir village, in the municipality of Tarazá, in the department of Antioquia.
During the operation, carried out by units of the National Army, the Colombian Air Force, the National Police and with the support of the Attorney General's Office, abundant war material, military accessories and communications equipment were found.
According to information obtained in intelligence operations, it was possible to establish the presence of the members of the Organized Armed Group in the municipality of Taraza, which led to launch an operation that produced a combat that led to the capture of criminals, without hitting the troops.
In the military operation, 11 long firearms, a mortar, 22 hand grenades, 50 magazines, 2,000 cartridges, two kilos of anfo, an improvised explosive device, 20 vests, 20 field equipment, a radio scanner, among other elements of military accessories and communications were found.
The individuals have a criminal record of more than three years in the criminal organization. As it was possible to establish, these individuals would be involved in the execution of the murder of social leaders, they were the liaisons with residual groups and with Mexican Cartels to control illegal activities in the area and work with urban structures to perpetrated extortions and kidnappings.
From July to date there have been five firefights in the sector of La Caucana, which have led to the capture of 16 members of 'Los Caparros', 31 in the Lower Cauca of Antioquia. In the same way, four individuals have surrendered to justice and one person died in military operations.
Source: National Army