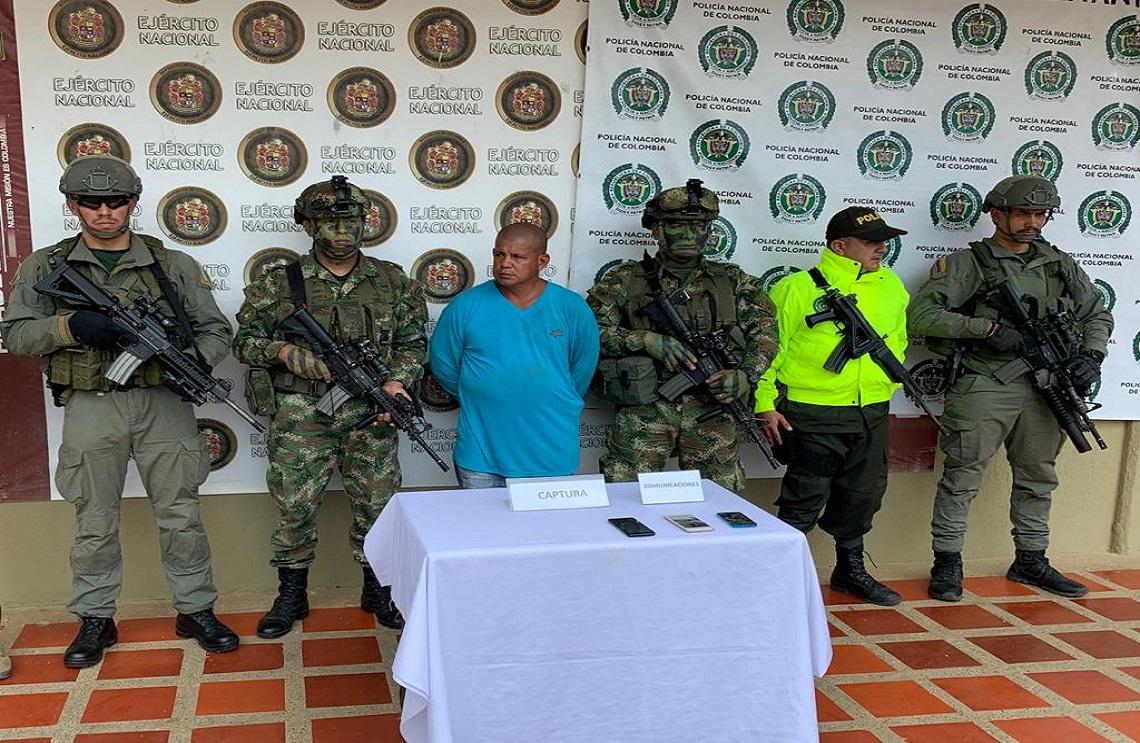 This individual has an extensive criminal record, and would be responsible for coordinating the criminal alliance with the residual Organized Armed Groups, GAO-r, Structures 18 and 36.
In military operations, troops of the National Army, in coordination with the Colombian Air Force, the National Navy and with the support of the National Police, the Attorney General's Office and attending to the recommendations of early warning No. 009 of 2018, captured the alleged ringleader alias "Cuarenta", or "Politico", who would have belonged to the extinct AUC (United Self-Defense forces of Colombia).
The military operation is carried out thanks to the information provided by the Civic Participation Network, which denounces the presence of this man in the hamlet known as Juan Martín, municipality of Cáceres, in the department of Antioquia, the place where the National Army troops arrived to carry out the apprehension of this criminal.
According to intelligence information, alias "Politico", 55, would have a criminal experience of more than 20 years, and apparently he exerted control of approximately 130 armed men, in the same way, he is said to coordinate the criminal alliance with alias Ramiro and alias Cabuyo, ringleaders of the residual GAOs, Structure 18 and Structure 36, to maintain the criminal operations of the GAO the Clan del Golfo, in the south of Córdoba, lower Cauca and north of Antioquia, for the control of illicit income and drug trafficking.
In 2006, he demobilized of the extinct AUC as a member of the staff, and would be responsible for the criminal deployment of armed men in the lower Cauca, where he apparently controlled the criminal activities projected by the main leader of the GAO Caparros, alias "Caín" or "Pilatos". On this individual there is an arrest warrant for the crime of conspiracy to commit an aggravated crime.
The man was put into custody of the authorities, who ordered to put him into prison.
With this result, the command and control structure of the Caparros, which has been committing crimes in southern Córdoba and northern Antioquia, is heavily hit.
Source: Press - National Army