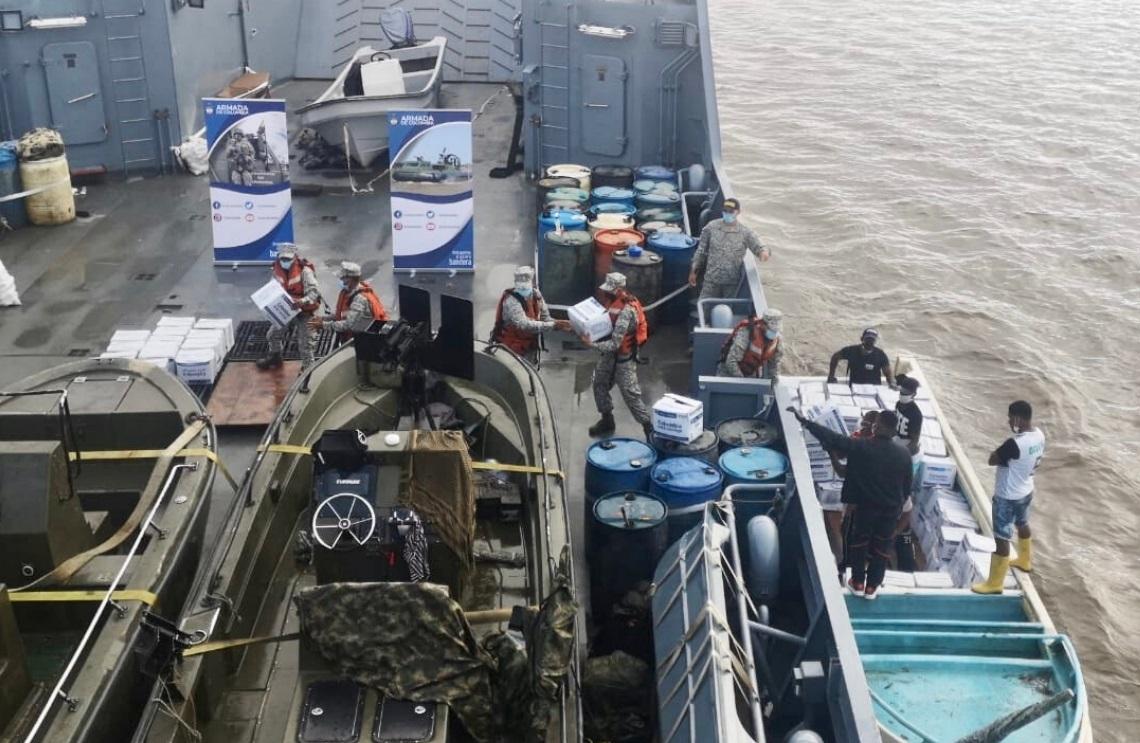 On board the Logistics Support Ship ARC Bahía Málaga of the Colombian Navy, attached to the Pacific Naval Force, transported 21 tons of humanitarian aid, distributed to the inhabitants of four coastal municipalities, in the department of Nariño.
With the purpose of supporting the most vulnerable Colombians during the health emergency generated by the covid-19, in the Port of San Andrés de Tumaco, the crew of the Navy Infantry Brigade No.4, made the shipment of 12 tons of food baskets arranged by the Ministry of the Interior, within the framework of the "Colombia is with You - One Million Families" program. Eight tons of rice donated by the Department for Social Prosperity and 1,200 liters of vegetable oil donated by the private sector of Tumaco were distributed.
After four days of sailing, 916 families made up mostly of older adults, of the municipalities of El Charco, Mosquera, Olaya Herrera and Santa Bárbara de Iscuandé, who subsist on fishing and piangüa extraction activities, benefited of the distribution of this family baskets distribution, which they received with joy and hope, since for them they represent relief during preventive isolation.
"We are receiving the aid donated by the Social Prosperity, eight tons of rice ... We want to thank the National Government and the Colombian Navy, who have brought this aid today. It is very important for us to be able to attend part of our people in this emergency for covid-19 that we are experiencing. We want to thank all the Institutions that are supporting us. " expressed the Secretary of Government of the Municipality of Olaya Herrera.
In the framework of Operation San Roque, the Unified operation conducted by the National Government and the Colombian Navy has been essential to bring well-being and help the most remote and vulnerable inhabitants in the South Pacific of the department of Nariño.
The Pacific Naval Force, through the Navy Infantry Brigade No.4, human talent and available logistical resources have been working for the execution of these civil cooperation operations, which help mitigate the effects generated by the coronavirus.
#QuedateEnCasa # CorazónAzuLado #EstaEnTusManos
Source: press - Colombian Navy