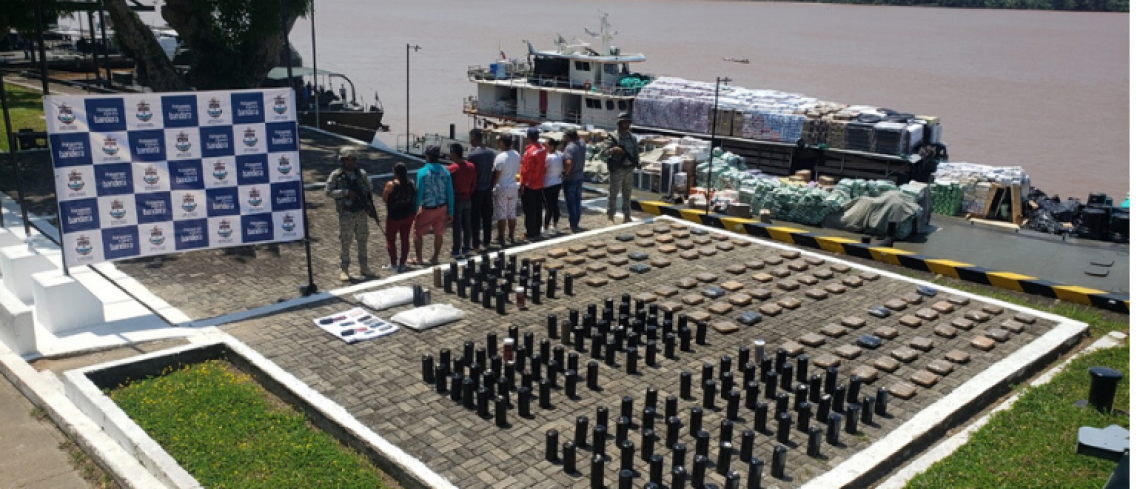 Units of the Naval Force of the South carried out the inspection of the Colombian flag river mail boat, after Naval Intelligence information determined that it was transporting a load of illegal substances.
The boat was taken to the command post of the Naval Force of the South, where its cargo was checked in detail with the support of anti-narcotic canine.
During the search, troops found several boxes that were not reported in the cargo manifest. 96 rectangular packages and 152 cylindrical packages were found by the troops with 289 kilos of cripy marijuana, with a cost exceeding 2,200 million pesos, about US$636,534.429, in the international black market.
During the operation, the restoration of rights of a minor of age was possible as well as the capture of the eight crew members of the boat, who were put into custody of the authorities, together with the materials.
The Colombian Navy reaffirms its commitment to fight against drug trafficking and will continue to carry out surveillance and control operations on the fluvial arteries of the Colombian Amazon to deny this space to criminal groups, while inviting the community to denounce the Illegal organizations of drug trafficking groups that directly harm the tranquility and security of the inhabitants of this region of the country.
Source: Colombian Navy