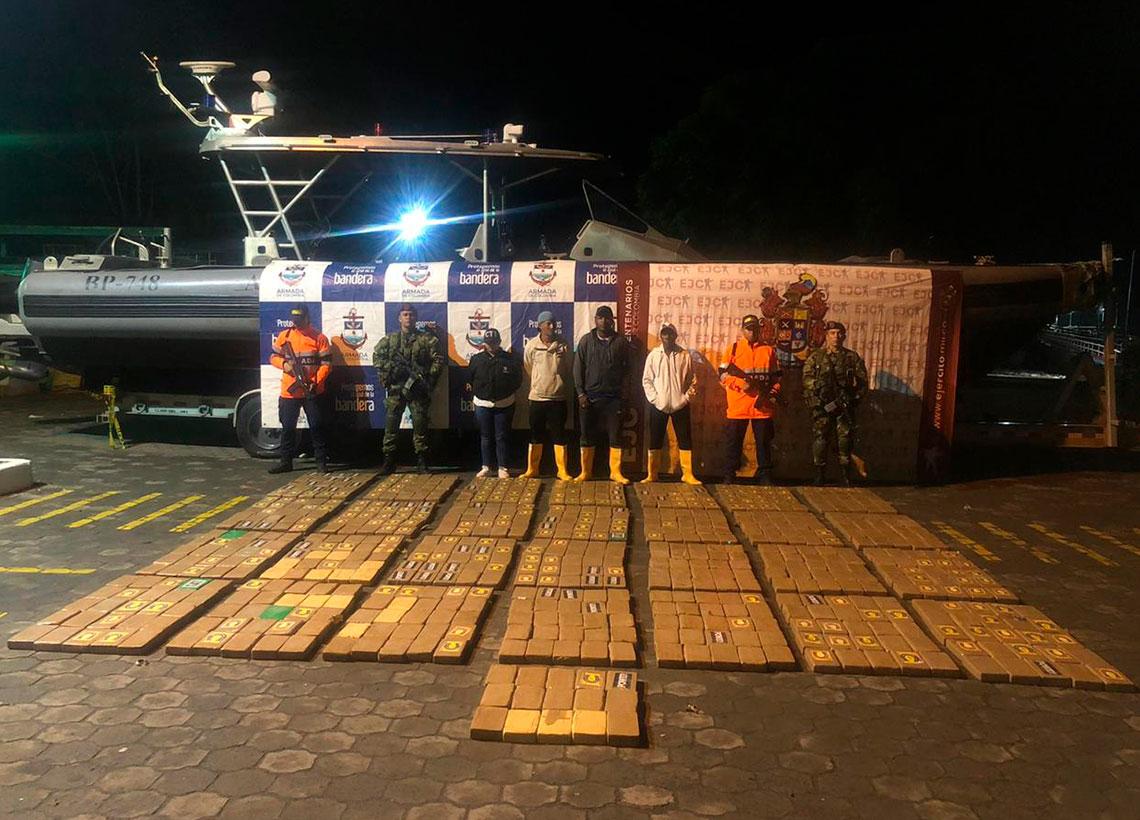 With important information from Naval Intelligence, Coast Guard Units of the Colombian Navy, find more than 715 kilograms of cocaine hydrochloride, which were being transported in a fleeper boat, 24 nautical miles of the port of Tumaco, in the department of Nariño.
The successful joint operation occurred when Units of the Tumaco Coast Guard Station, with the support of a National Army helicopter, achieved the discovery and interception of the boat that was moving at high speed, with three individuals on board. After the pursuit of more than an hour, the boat was immobilized by the military personnel, who proceeded to carry out the inspection of the boat, in accordance with the established procedures, finding inside, 36 black sacks with several packages with physical characteristics similar to those of alkaloids.
The motorboat, the cargo and the three individuals, two Colombians and one Ecuadorian, were mobilized to the Port of Tumaco, Nariño, where members of theCTI (Technical Investigations Corps) of the Prosecutor's Office, did the Homologated Preliminary Identification Tests (Piph) to the substance found in the packages, leaving positive for a total of 715.9 kilograms of cocaine hydrochloride.
Apparently the alkaloid belonged to the Organized Armed Group Los Contadores and would have as destination the Pacific Cartel, in Mexico, a country where it would be commercialized at a price close to 23 million dollars.
The three individuals were captured for the crime of trafficking, manufacturing or carrying narcotics.
In 2019, the Colombian Navy through the Task Force Against Drug Trafficking No. 72, Poseidon, with the operation conducted in the fight against illicit substances, has managed to find 131 tons of cocaine hydrochloride and more than 15 tons of marijuana, which not only heavily hits the finances of narcoterrorist organizations, but in the same way reduces the social impact generated by the consumption of narcotic drugs worldwide.
Source: Pacific Naval Force