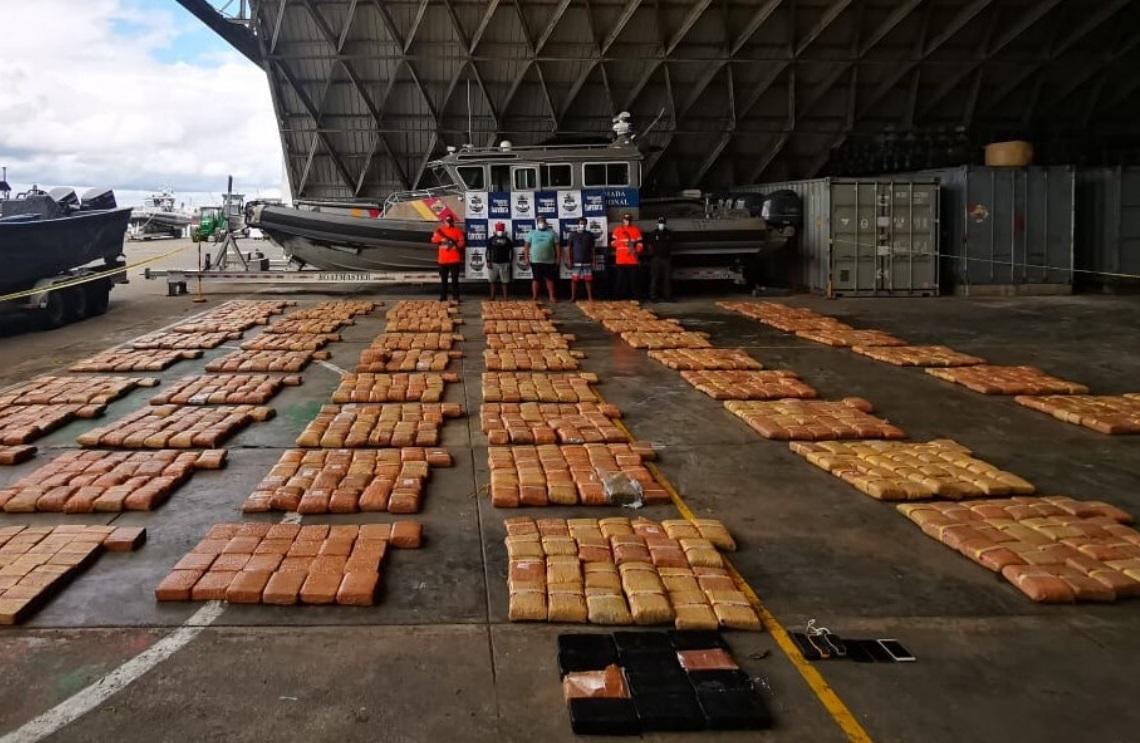 Colombian Navy units intercepted a boat conducted by three Costa Ricans in Colombian Pacific waters, carrying more than a ton of marijuana and 12 kilograms of cocaine, at the time they were traveling to Central America.
Thanks to information from Naval Intelligence, it was possible to carry out this maritime interception operation carried out by Units of the Buenaventura Coast Guard Station and the ARC Nariño, detaining a lobster-type boat, when it was traveling at high speed over the mouth of the Naya River 20 nautical miles of the coast, in Buenaventura, Valle del Cauca. Immediately, the Units made a call to the crew of the boat, who upon noticing the presence of the Colombian Navy ignored it and undertook to escape, initiating a maritime pursuit.
After being detained, the soldiers carried out an inspection inside the boat, finding 56 sacks, with characteristics similar to those used by drug trafficking organizations to transport narcotic substances. In the same way, two GPS, three cell phones and a satellite phone troops found.
Due to this fact, the three Costa Rican individuals were taken, along with the cargo, to the pier of the Buenaventura Coast Guard Station, to carry out the respective judicial procedure, preserving all the sanitary measures for the prevention of possible covid-19 infections.
At the scene, the men were examined by Port Health officials, verifying the health status of each of the men, who had no symptoms associated with the covid-19 virus.
Members of the CTI (Technical Investigations Corps), of the Prosecutor's Office, carried out the Initial Test - PIPH on the substance contained in the 1,354 packages, and their 56 bags, leaving positive result for 1,342 kilograms of marijuana and 12 kilograms of cocaine hydrochloride.
The drug found during this military operation would cost more than 10 million dollars in the international illegal market. Those captured, who were put into custody of the authorities in the Buenaventura district, must answer to the justice for the alleged crime of trafficking, manufacturing and carrying narcotic drugs.
With this result, the Pacific Naval Force has found over the year more than 56 tons of cocaine hydrochloride and 10 tons of marijuana.
Source: press - Colombian Navy