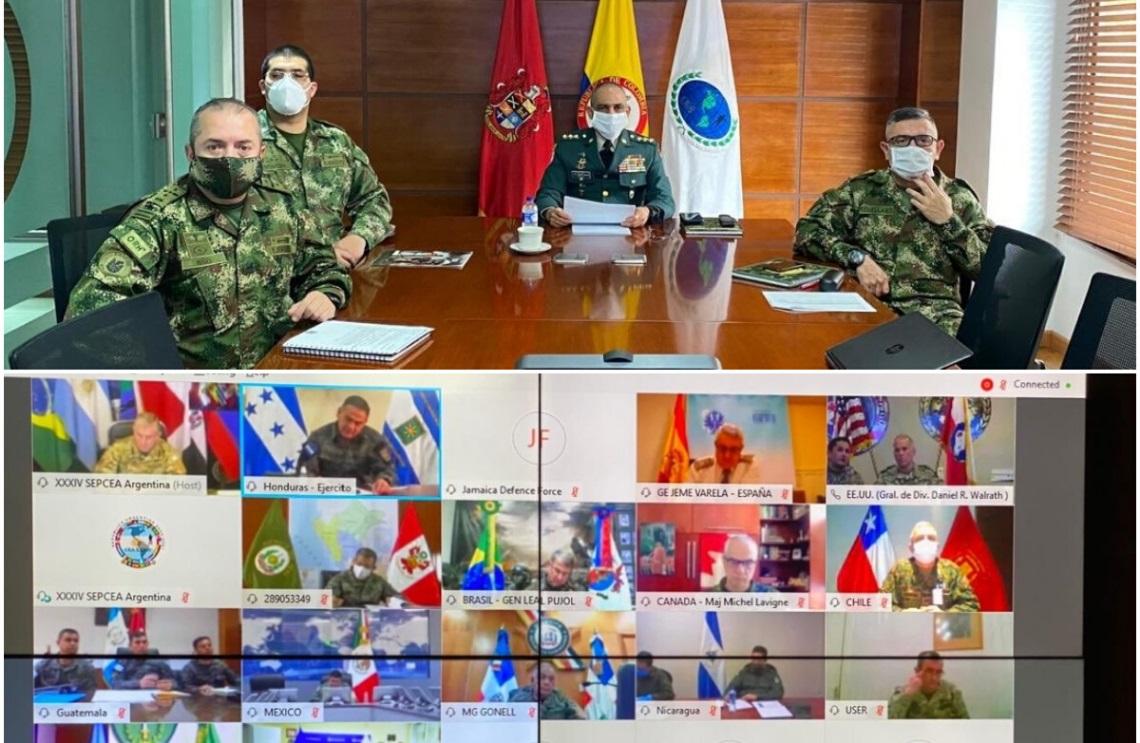 The objective of the videoconference was to reorient the activities to meet the objectives of the XXXIV cycle of the Conference of American Armies that is held twice a year.
In the middle of a conference, through virtual connection, Major General Eduardo Enrique Zapateiro Altamiranda, commander of the Colombian National Army, participated in the videoconference of commanders of the American armies, convened by the Conference of American Armies (CEA), in which he shared with army commanders of the continent, the experience of the army in coping with the pandemic unleashed by covid-19.
In total 17 army commanders from countries such as Brazil, Canada, Chile, Colombia, the United States, El Salvador, Spain, Guatemala, Honduras, Jamaica, Mexico, Nicaragua, Peru, the Dominican Republic and Uruguay knew part of the activities carried out within the framework of Operation San Roque, with which the military have put at the service to the Colombians all their resources to face the health situation in Colombia.
In this periodic meeting, which was chaired by Brigadier General Agustín Humberto Cejas, chief of the General Staff of the Argentine Army, who in turn holds the position of president of the current CEA cycle, and the member countries of the Inter-American Defense council, in the same way participated.
Each of the commanders who are part of the Conference of American Armies shared their experiences and lessons learned, which led to clarifications regarding covid-19, which was rated as a global challenge that requires the active participation of The armies, for this, it is pertinent to conduct a joint collaborative response to this common enemy.
Major General Eduardo Enrique Zapateiro Altamiranda, commander of the National Army, shared with the participants the operations carried out by the Force in the frame of Operation San Roque, in its four lines of effort: Preserve the army´s good physical condition, maintain the operational capacity, development of operations, and assistance to the civil authority as well as the humanitarian assistance to the inhabitants.
The CEA, for more than half a century of its foundation, has promoted the integration of the armies of the continent, and is carried out to deal with issues of common interest in a context of security and defense in the hemisphere. Colombia is one of its founding countries through the National Army, and has become a key player in activities within the framework of the CEA, having hosted the Permanent Executive Secretariat on two occasions (the most recent in the Cycle XXXI, in the years 2014 and 2015), and hosting different very important activities to the Organization.
Source: National Army - News Agency