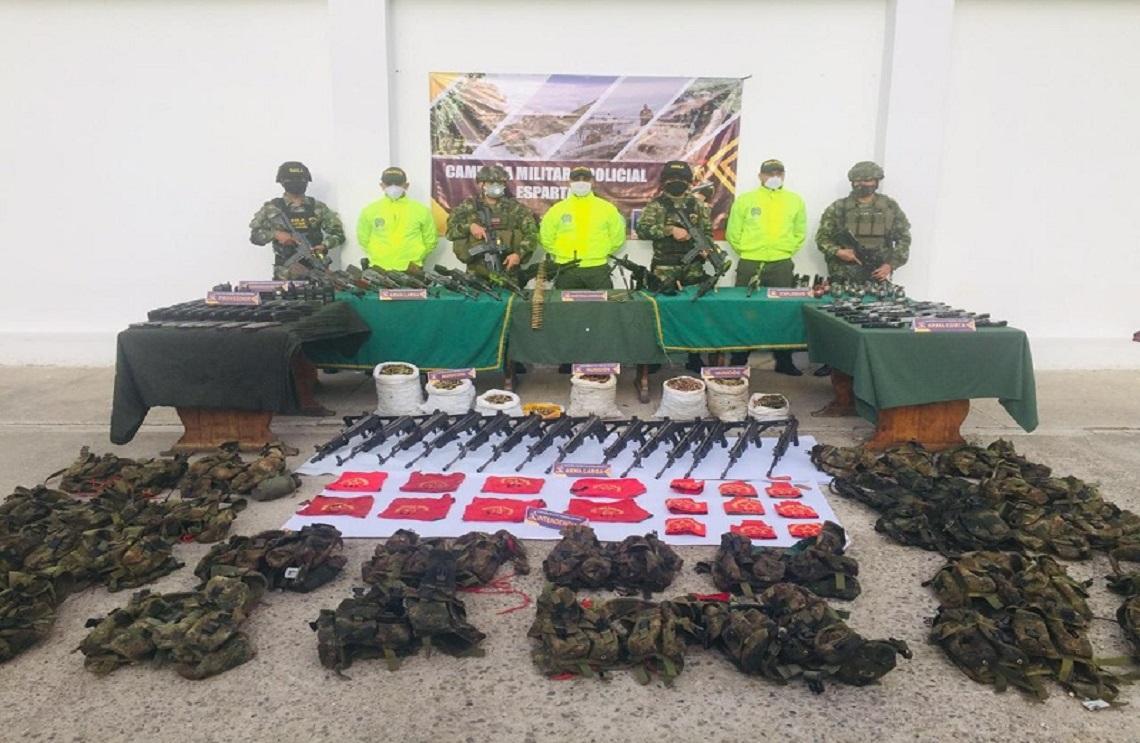 A machinegun, 25 rifles, 18 pistols and more than 11,000 cartridges of different calibers were found.
Within the framework of the Military and Police Campaign Esparta, two illegal hideouts, apparently belonging to the Organized Armed Group, GAO, Los Pelusos were found. There they hid abundant war material with which they would be perpetrating their criminal operations against civilians, the Security forces and in confrontations with the GAO Eln.
The operation, carried out by troops of the Thirtieth Brigade with its component of the Unified operation Group for Personal Liberty, Gaula (Anti-Extortion and Anti-Kidnapping Group), of Norte de Santander, in coordination with units of the Directorate of Criminal Investigation and Interpol, Dijín, of the Police, in La Maravilla, rural area of ​​the municipality of Sardinata, in Norte de Santander. Two illegal warehouses in which there was a machinegun, 25 rifles, 18 pistols, 2 revolvers, 15 fragmentation grenades, 112 magazines for rifles, 19 magazines for pistols and a 11,712 cartridges of different caliber were found.
In the same way, military accessories and communications equipment were found in the clandestine structures. There were 19 radios, 35 vests, 9 armbands and 6 headscarves with messages alluding to this criminal group.
With this result, the GAO Los Pelusos continues to be dismantled, which, through intimidation in the municipality of Sardinata, earned money from extortion and kidnapping of merchants, transporters and civilians, which has generated the displacement of the inhabitants of the region.
To date, 30 members of this group have been captured in Norte de Santander, including Jota, who would be the ringleader of the Catatumbo structure; Elisenio Torres Villalba, who commits crimes in the Catatumbo sector and, in the same way, alias Ricardo, alleged ringleader of this structure in the municipality of Sardinata, and recently apprehended.
Source: National Army News Agency