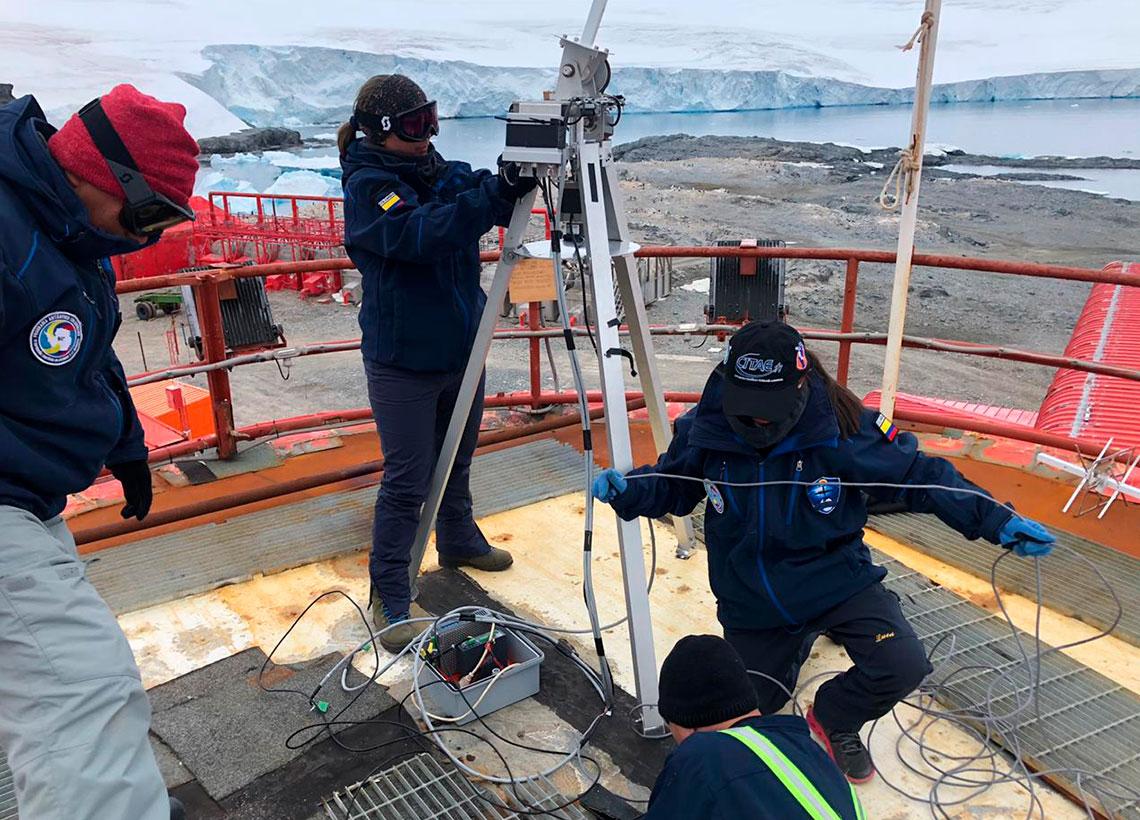 The VI Scientific Expedition and IV Antarctic Campaign of the Colombian Air Force reaches its seventh day.
The delegation is composed of officers and non-commissioned officers of the Institution that initiated a new travel to the white continent aboard the C-130 Hercules aircraft, belonging to the Military Transport Air Command-CATAM, took off from Bogotá on January 17 and arrived in the Second Air Brigade of The Chilean Air Force, flying more than 4,300 kilometers in nine hours to, the next day, depart for the Chabunco Air Base in Punta Arenas, a previous launch point and cross into the Antarctic, flying over the Darwin mountain range, one of the highest in the globe.
The crew of the C-130 Hercules composed of pilots, instructors and specialized technicians and certified personnel in polar operations, finally landed on January 19 on King George Island in Antarctica, in a fully autonomous operation, traveling more than 1,200 kilometers over the Arctic ocean with favorable sky and visibility weather conditions, landing on an unprepared runway of 1,200 meters of volcanic surface and facing winds of 18 kilometers per hour. This is the fourth time that a Colombian Air Force aircraft conquers The white continent.
As part of the Colombian Antarctic Program, the C-130 Hercules transported 10 scientific researchers of the Colombian Air Force from Punta Arenas to King George Island, to start different meteorological projects, identification of operational hazards, satellite communications and studies of development of analogous space missions. In the same way, it carried out the transfer of 17 personalities and scientists from Ecuador and 2 from Chile, within the framework of international air transport cooperation of personnel and equipment.
Upon arrival at King George Island, scientists of the Institution's Aerospace Research Center-CITAE boarded the Ship Fuentealba of the Chilean Navy, to begin the communications study with a prototype antenna for the FACSAT-1 nanosatellite in the white continent, covering more than 200 kilometers over the Bransfield Sea to the General Bernardo O'Higgins base, a scientific research station in Chile found on the Isabel Riquelme Islet in Antarctic territory. These Air Force investigators will remain in this base for three weeks, in which they will install the antenna to carry out tests of a software and radio tracking and the link with the FACSAT-1, with the logistic support of the Chilean Army.
On the other hand, the other group of researchers of the Colombian Air Force continue their studies in the King George Island, carrying out their studies through different tests and taking data such as the launch of probe balloons for the identification and characterization of meteorological phenomena dangerous for air navigation in the Antarctic and taking pictures with drones to identify risks for the air operations.
The C-130 Hercules will transport the group of researchers on Friday 24, to finally return to Colombia on January 26.
Source: Strategic Communications Department- Colombian Air Force