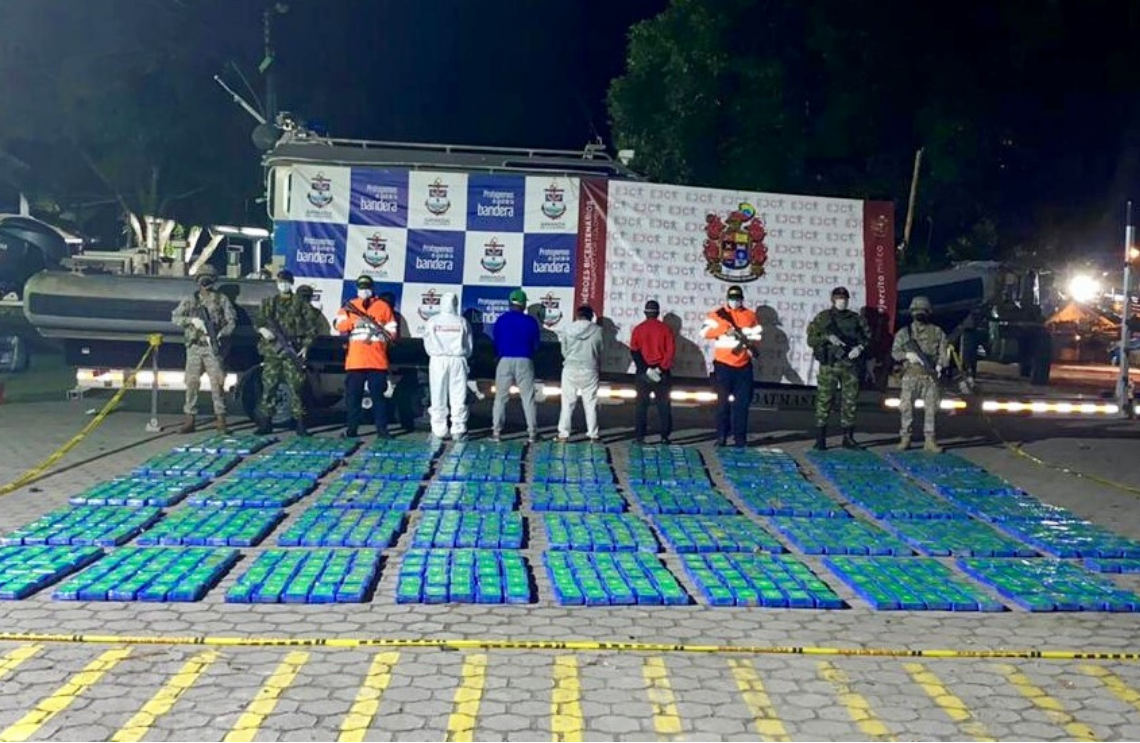 This shipment is valued at more than US$ 37 million.
A maritime interdiction operation carried out by the Colombian Navy Units jointly with the National Army and the Colombian Air Force, in the waters of the South Pacific of Narino, led to the interception of a semi-submarine, loaded with more than a ton of cocaine hydrochloride, heading to Central America.
The detection of this device was reported 120 nautical miles of the Port of Tumaco, dans le département de Nariño, after an intense pursuit conducted by the Tumaco Coast Guard Units, which began when the crew of the semi-submarine evaded a control checkpoint of the authorities.
Maintaining all the sanitary measures, for the prevention and containment of the COVID-19, the members of the Coast Guard carried out searches within the naval device, manned by two Colombians and one Ecuadorian, finding 55 sacks containing 1,104 pressed and waterproofed packages.
The material and the individuals were taken on board the Coast Guard units to the Tumaco dock, to conduct the urgent acts by the CTI (Technical Investigations Corps) of the Prosecutor's Office, who carried out the Preliminary Identification Test - PIPH, whose result was positive for 1,100 kilograms of cocaine hydrochloride.
The individuals were captured for the crimes of trafficking, manufacture and / or carrying of narcotic drugs and use, construction, commercialization and / or possession of semi-submarines or submarines.
It is estimated that the drug would be marketed for a cost of more than 37 million dollars on the international black market, preventing with its discovery, the entry of these money into the finances of the narco-terrorist organizations that commit crimes in the Colombian Pacific.
With this result, there are 11 semi-submarines detected or immobilized by units of the Pacific Naval Force, during the first quarter of the year, in the western region of the country. In the same way, to date the fight against drug trafficking leaves 44.2 tons of narcotics found, including cocaine and marijuana.
Source: press - Colombian Navy