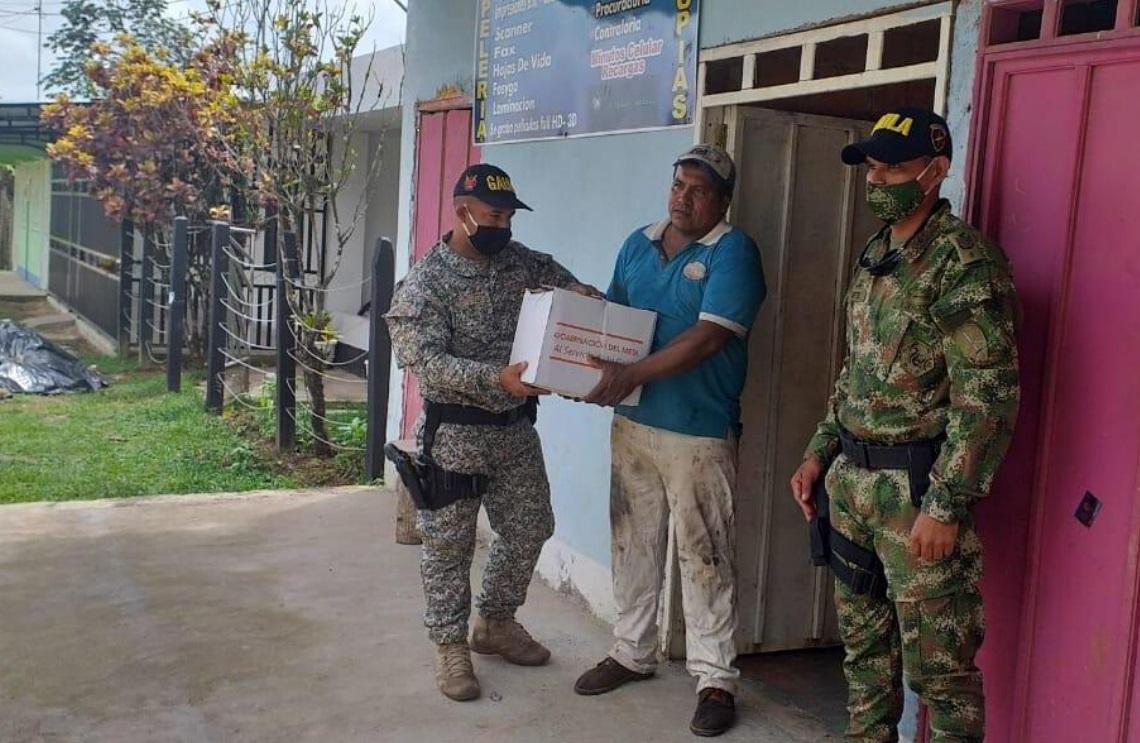 The distribution of food baskets to the families that live in this region of the country has been carried out by the Omega Joint Task Force and the Municipal Administration.
In the municipality of La Macarena, 480 families made up of more than 2,800 people, received humanitarian aid sent by the Presidency of the Republic and the Government of the department of Meta.
The food baskets were distributed by City Hall officials and soldiers of the Rapid Deployment Force No. 1, FUDRA1, to the beneficiaries who live in the urban area and in the rural area of ​​the municipality.
The transfer of the food kits was carried out in a Colombian Air Force plane, which took off at the Air Combat Command No.2 in Villavicencio, where the food baskets provided by the National Government were received and loaded.
After having flown 255 kilometers, the aircraft landed on the runway at the Javier Noreña Valencia airport in La Macarena. There, troops of the Rapid Deployment Force No. 1 were ready to unload the humanitarian aid, late at night, which later was transferred to the Mayor's facilities.
"It is now a reality to be able to reach each house in need in La Macarena , with humanitarian aid that the Governor of Meta, the first Lady of the Nation and the Risk Management Unit have given us. We thank in the same way for the support of the units of the Omega Joint Task Force, who transferred this supplies from Villavicencio to the municipal house," said Herminson Cárdenas Montealegre, mayor of La Macarena.
Source: press - National Army