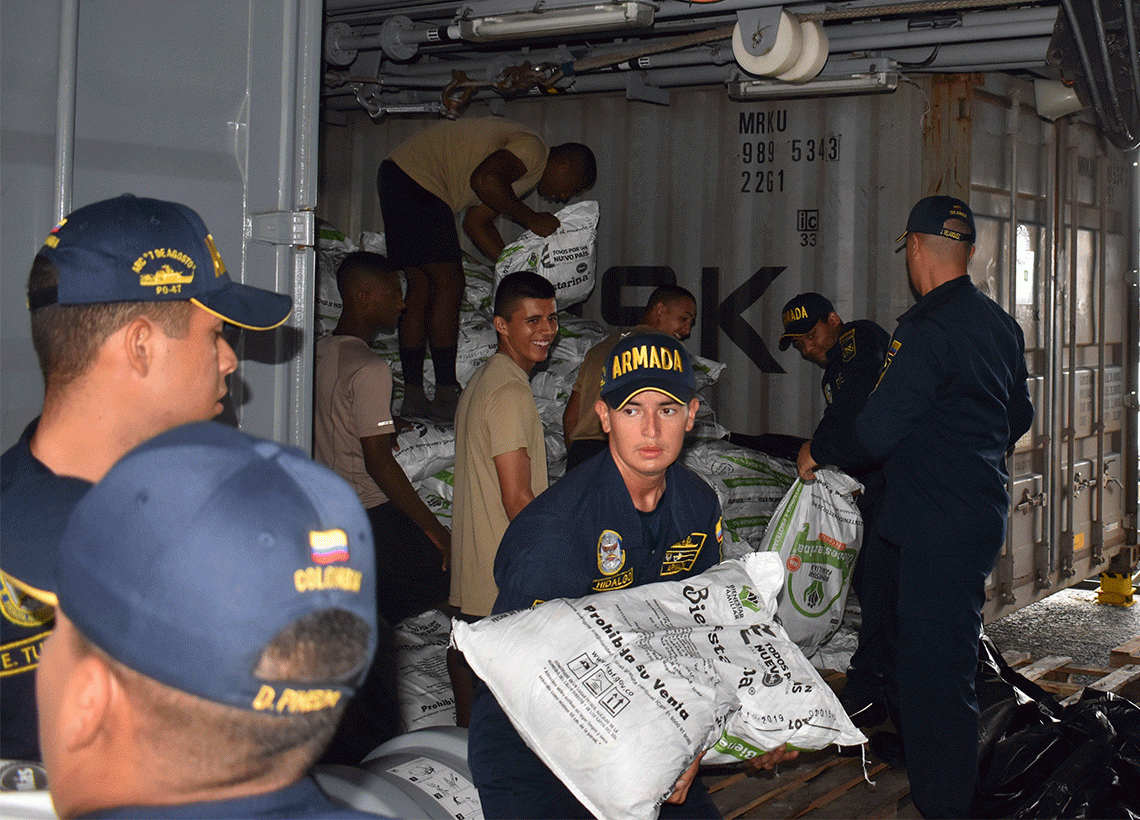 The Colombian Navy supports the communities of the Colombian Pacific in coordination with the department of Nariño, which suffered contingencies due to the blockades that occurred in the Pan-American Highway, during the indigenous Minga, continues to support through its maritime Units, transportation of food, hospital materials, fuel and gas.
On board the ship ARC '7 de Agosto', of the Pacific Naval Force, troops embarked a container, thanks to the management of the Harbor Master's Office of Buenaventura, of the General Maritime Directorate (Dimar), the containers with Bienestarina (dietary supplement) sent by the National Government, to be distributed among the children of the Nariño, facing the shortage generated few days ago, by the blockade of the Pan-American highway.
After leaving the port of Buenaventura on last Friday, April 5, the Navy ship of Colombia ARC '7 de Agosto' arrived in the municipality of Tumaco with 60.5 tons of Bienestarina for the department of Nariño, supporting the needs of Colombians in the Southwest of the country, especially to contribute to the care.
In this way, the protected children, the most vulnerable population of the country, which is part of the programs of the Colombian Family Wellbeing Institute, of the children's dining rooms of the Center of Tumaco that cover the municipalities of Tumaco, Francisco Pizarro, Mosquera, Olaya Herrera, Santa Barbara, El Charco and La Tola, will benefit.
During the last 15 days, five ships of the Pacific Naval Force carried out the escort from Buenaventura to Tumaco of 871,520 gallons of gasoline, as well as the transport of 130 gas cylinders of 40 pounds, in order to supply this port of the Colombian Pacific.
Source: Pacific Naval Force