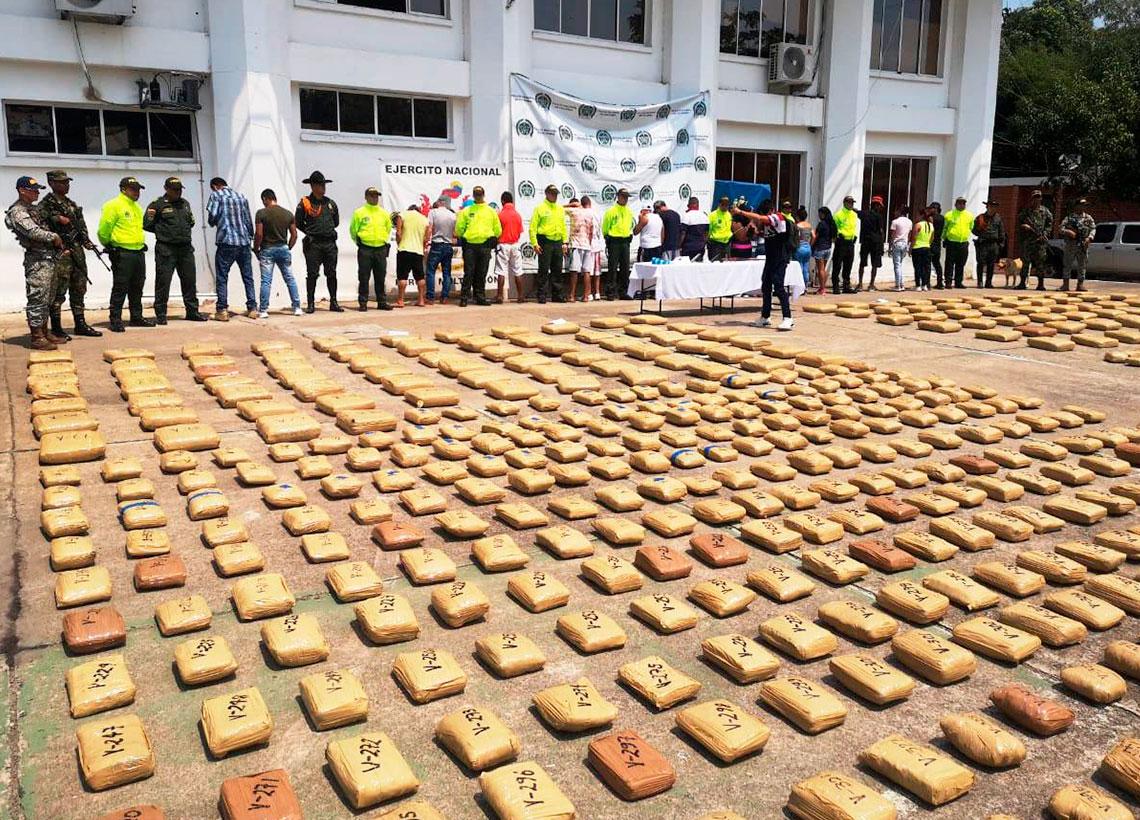 Seven captures, a minor recovered and a laboratory finding and destruction, directly impact the criminal operations of these groups.
In military operations carried out by the troops of the Second Division of the National Army, Fifth Brigade, organized armed groups and criminals who commit crimes in the area have been hit.
In recent hours, soldiers of the Ricaurte Battalion, in the Ventarrón village, municipality of San Martín, in Cesar, captured four individuals and recovered a minor of age, apparently members of the Organized Armed Group (GAO) Los Pelusos that commits crimes in Norte de Santander. Troops seized a short range weapon, 5 shotguns of different caliber, 48 shotgun cartridges and three nine millimeter arms, a magazine for rifle, cell phones and flashlights.
The individuals were put into custody of the judicial authorities, and the Colombian Family Wellbeing Institute will be responsible for the restoration of the rights of the minor.
On the other hand, added to the capture of three individuals, apparently members of the finance group of the Heroes and Martires front of the GAO Eln, troops reported in recent days, in rural area of ​​San Pablo, in the department of Bolívar, troops of the Nueva Granada Battalion, in coordination with the Police of Magdalena Medio region, in Barrancabermeja, in the department of Santander, the capture of 10 people and the discovery of more than one ton of marijuana, 344 grams of bazuco (crack), 49 grams of cocaine, a van, 2 firearms and ammunition for these. Similarly, in rural area of Cantagallo and San Pablo, in Bolívar, found and destroyed 3 laboratories that produced coca paste. These results directly harm the finances of the "Heroes and Martires de Santa Rosa" front, of the Eln, Organized Armed Group.
In the same way in Santander, thanks to the work of GAULA (anti-extortion and anti-kidnapping group), in coordination with the National Police, it was possible to release an 80-year-old lady, in rural area of ​​San Vicente de Chucurí, who had been kidnapped by strangers last November in This same region of the department.
The units of the Fifth Brigade in Bucaramanga, Piedecuesta and Confines captured three people, accused of conspiracy offenses to commit crimes, manufacturing, trafficking and carrying of weapons and abusive sexual acts with a 14 years old underage.
Source: Fifth Brigade - National Army