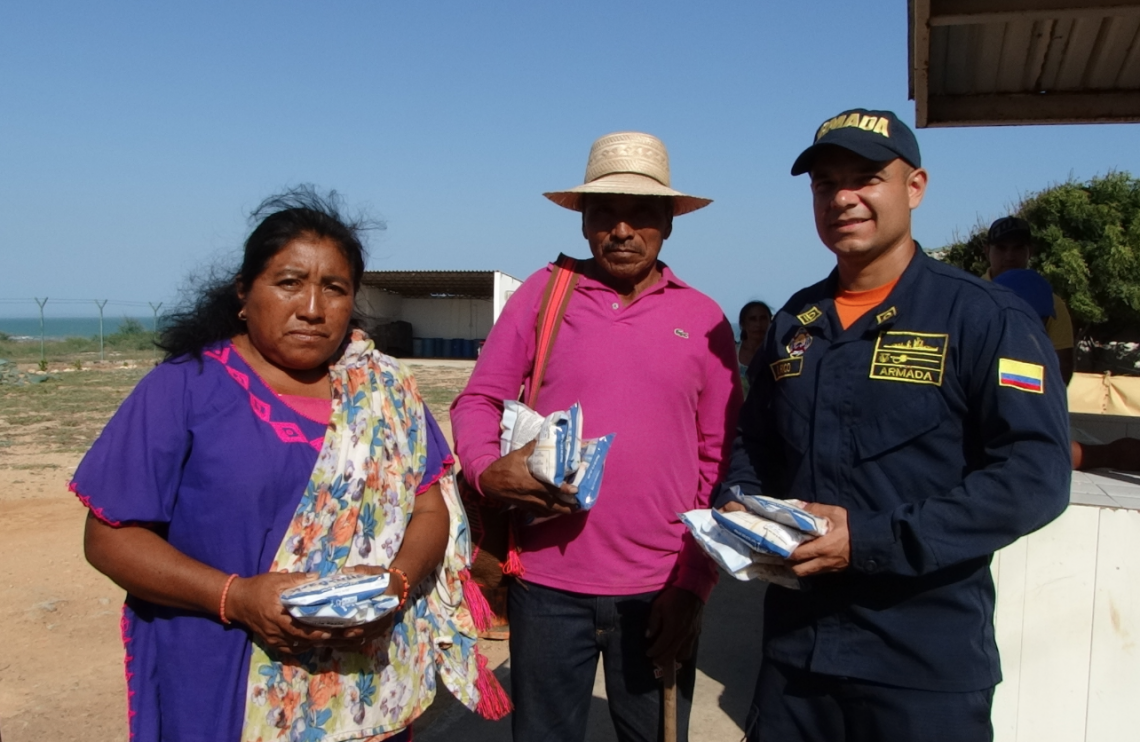 With the purpose of providing support to indigenous communities, in the Upper Guajira region, the National Navy benefited more than 900 people, during the Development Support Activity carried out in recent days, in the framework of the new campaign "Water for Life in La Guajira".
The Ship ARC "Golfo de Urabá", the Naval Reserve of Cartagena, the Coast Guard Surveillance Station of Punta Espada, the Marine Infantry Mobility Battalion, the Marine Infantry Brigade No.1 and the awareness Special Operations Group, conducted wellbeing activities and distribute humanitarian aid in the municipalities of Punta Espada, Siapana and Punta Gallina, in the municipality of Uribia, in the Alta Guajira region.
The activity included the distribution of 14 thousand gallons of drinking water, transported on board the ARC "Golfo de Urabá", the distribution of 200 boxes of liquid Bienestarina (supplement), 40 boxes of fortified rice and 150 kits of presents for families.
The medical group of specialists of the Nazareth hospital of La Guajira, in the same way participated in this event. In this way, 156 people received general medical assistance and 110 dental consultations. At the same time, recreational activities and the presentation of a film for the children of the indigenous Wayúu communities were carried out, in addition to the distribution of 170 snacks.
Source: National navy - Press