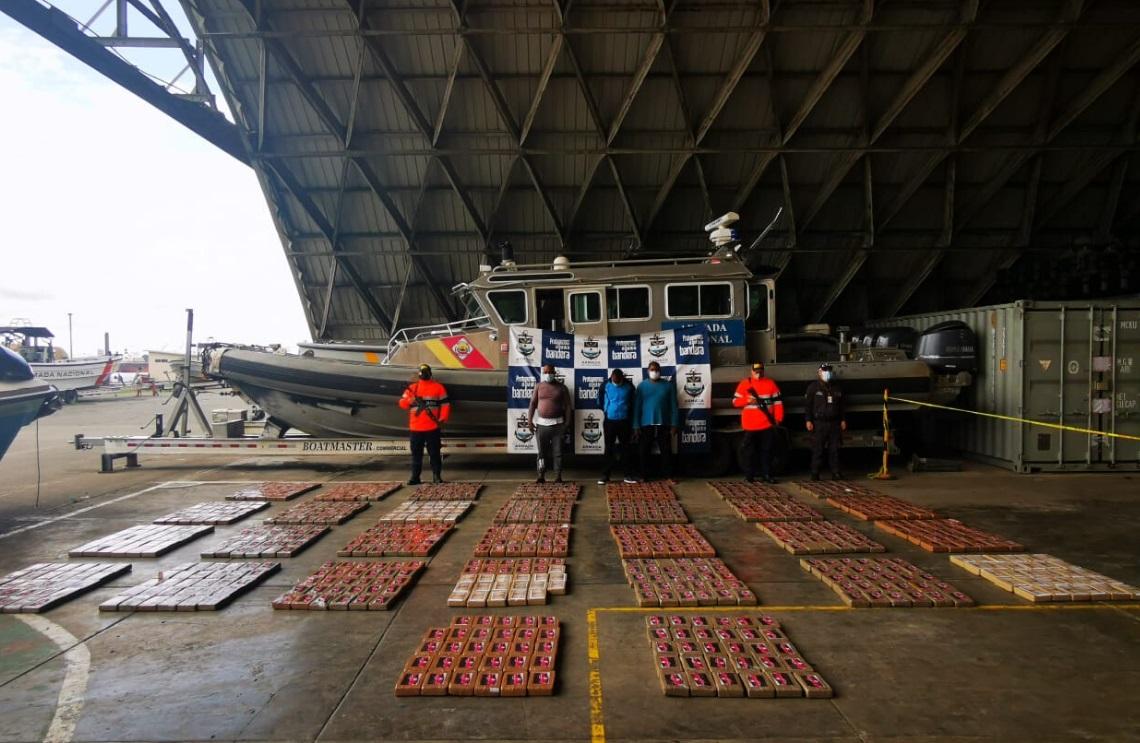 About a ton of cocaine apparently belonging to the residual Organized Armed Group, GAO-r, Structure 30, was found by Colombian Navy Units in the Pacific, at the time when three individuals were trying to move it aboard a boat.
The decisive operations of control, security and maritime interception, as well as the naval intelligence information, led the Pacific Coast Guard Units, with the support of the ARC Monzón and ARC  7 de Agosto ships, to detect a lobster-type ship, manned by three individuals , who were traveling at high speed suspiciously and evading the controls of the Colombian Navy.
Immediately, the maritime interception operation began, which in conjunction with an aircraft of the Colombian Air Force Air Combat Command No. 7, led to intercept the boat in the Boca de Chamuscado sector, south of Buenaventura, Valle del Cauca, in which 30 sacks of different colors were found, by troops with packages that apparently contained narcotic substances, communication equipment and 500 gallons of fuel.
The material, the boat and the individuals were taken to the pier of the Buenaventura Coast Guard Station, where in compliance with the health protocols to prevent the spread of the Coronavirus, medical examinations were carried out on the three Colombian individuals in order to verify that they had no symptoms associated with covid-19; none showed health alterations.
Members of the Technical Investigation Corps carried out the Homologated Preliminary Identification Test - PIPH on the substance found in the packages, leaving positive result for 901 kilograms of cocaine hydrochloride, which represented an expected profit of more than 29 million dollars in the international illegal market, for the Armed Organized Residual Group Structure 30; in the same way troops prevented the circulation of 901,000 doses.
The drug, the communications equipment, the boat and the fuel found were put into custody of to the authorities along with those captured, who must face charges for trafficking, manufacturing or carrying narcotic drugs.
The Colombian Navy ratifies its commitment to the continuous development of search, control and security operations throughout the Colombian Pacific Coast, to continue countering illegal activities, especially drug trafficking, conducted by transnational crime organizations.
The consumption of narcotics hits the health of millions of people around the world on a daily basis. The chain of production of narcotics, especially of cocaine hydrochloride, only generates violence and poverty in the national territory and in civilians, in addition to considerably hit the environment.
Source: press - Colombian Navy