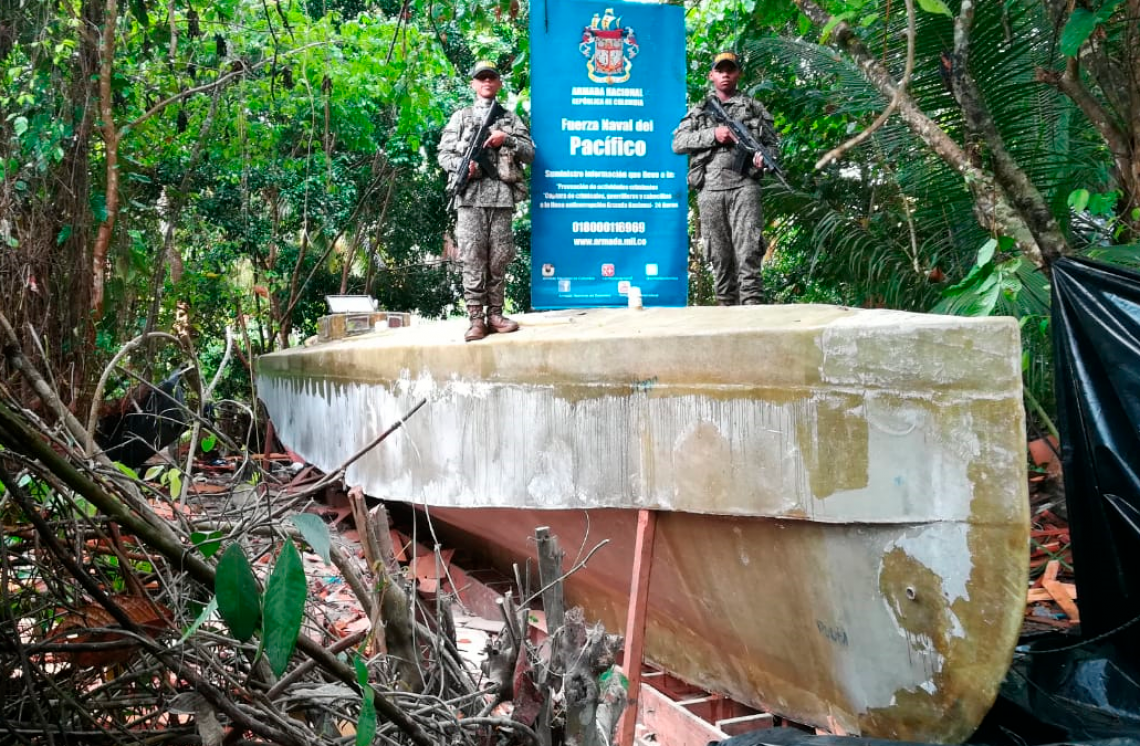 Valle del Cauca. Another blow to the drug trafficking organizations that commit crimes in the department of Cauca was given by the National Navy in the first week of the year, managing to find on this occasion, a semi-submarine under construction which would have the capacity to transport up to seven tons of alkaloids to Central America.
With information from naval intelligence, the troops of the Pacific Naval Force attached to the Marine Infantry Brigade No.2, arrived at the Chacón beach sector in the municipality of Timbiquí, in the department of Cauca, where they found a wooden structure covered with a plastic black, approximately 28 meters long and 8 meters wide, in which the semi-submarine, 17 meters long and almost 2 meters wide, was being built.
This type of semi-submarine, known as a low profile vessel (LPV for its acronym in English), is so named because they sail by 10 to 20 centimeters above the water level, which makes them very difficult to be detected in the water, because the color is confused with the waves and the sea.
According to the investigations, eight people would be working on the construction of the semi-submarine and it was expected to finish the process the last days of January, when they would proceed to ship the alkaloid to transport it to Central America. The individuals when noticing the presence of the troops of the National Navy escaped the place.
The construction was destroyed and the illegal vessel was taken to the facilities of the Infantry Battalion No.42 in the municipality of Guapi, in the department of Cauca, to make put it into custody of the correspondent authorities.
This is the first semi submarine found by the Pacific Naval Force in 2019. In 2018, troops found 28 semi submarines in the Colombian Pacific.
To date, the National Navy has found 125 submarine or semi-submarine type vessels, in its own operations, coordinated and combined, making use of the cooperation agreements with the Navies of the region, since 1993, when the first illegal vessel was found in the Colombian Caribbean.
Source: National Navy.