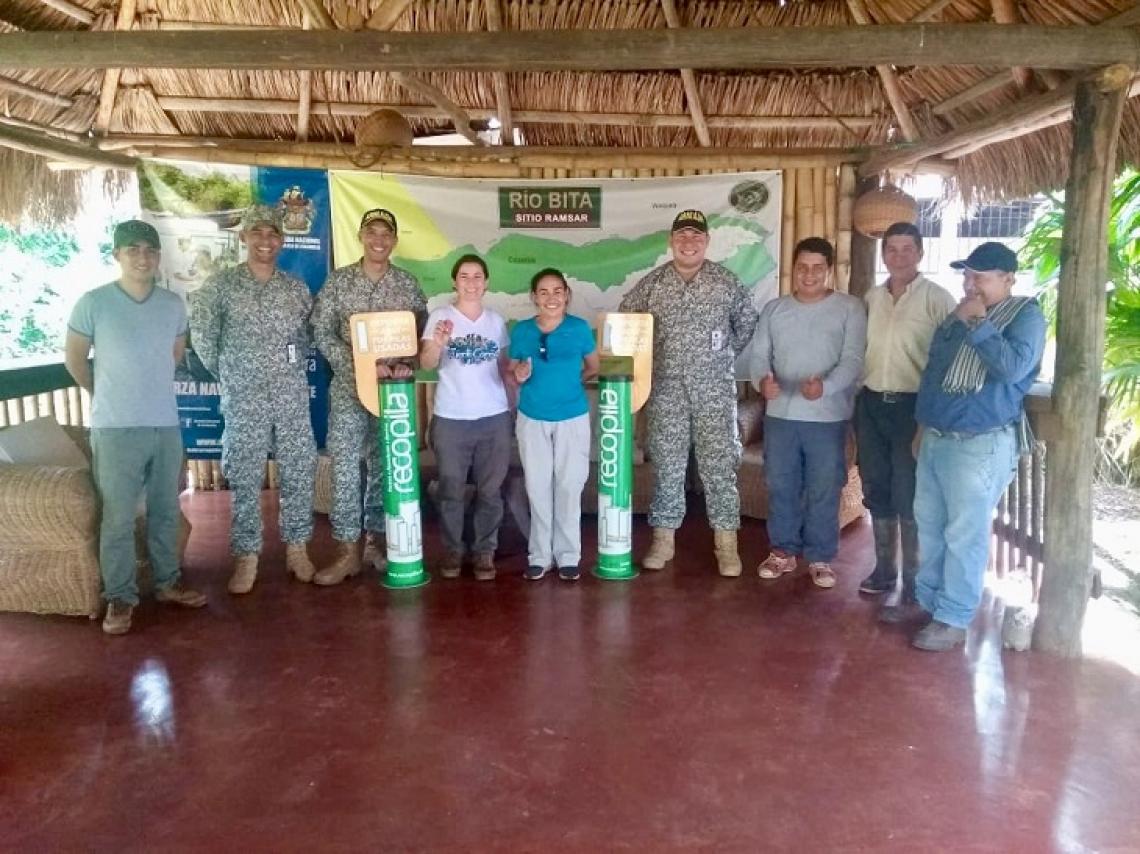 With the recent collection of six thousand used batteries given to the Autonomous Regional Corporation of the Orinoquía (Corporinoquia), the Navy of Colombia through the ARC Naval Base "Orinoquía", proved to be a benchmark and leader in the implementation of the post-Consumption disposal program, in the department of Vichada.
In order to implement the proper handling of used batteries, lead acid batteries, computers, tires, light bulbs, pesticide and / or medication containers, highly polluting waste for the environment that harm human health, the Ministry of Environment and Sustainable Development, has been leading the strategy "Post-consumption disposal".
As of January 2019, Corporinoquia, in alliance with "Recopila", initiated the promotion of this strategy in the department of Vichada in order to encourage the Security forces, Public and private companies, Schools and the community, the environmentally safe management of these post-consumption resources, collecting them safely in receptacles and placing them at their final disposal place.
The Naval Force of the East, in fulfillment of its institutional commitment to the protection and preservation of natural resources and the well-being of the community, under the leadership of the ARC Naval Base "Orinoquía", undertook the campaign "Pilas con la PIlas!" in the Naval and Marine Infantry Components, as well as in the institutional neighborhoods, being the first Institution to achieve the collection and distribution of six thousand AA batteries, an achievement certified by Corporinoquia.
This operation makes the Navy of Colombia a reference for the implementation of the Post-Consumption disposal strategy in the department of Vichada, a leadership that will seek to connect all the institutions and the civilian population in the most remote areas of the department, to generate adoption of these environmental practices.
"The objective is to motivate all the institutions and the people of Vichada to join and work hand in hand to prevent these waste from contaminating our soils and waters. With each battery that we collect, we are preventing about three thousand liters of water from being contaminated," said Captain Fitzgerald Alonso Torres, Commander of the Naval Base ARC Orinoquía.
The Navy of Colombia ratifies its commitment to protect water, biodiversity and natural resources, qualified as strategic assets of the nation and as a national security priority, in the Defense and Security Policy of the Government of Colombia.
Source: Navy of Colombia