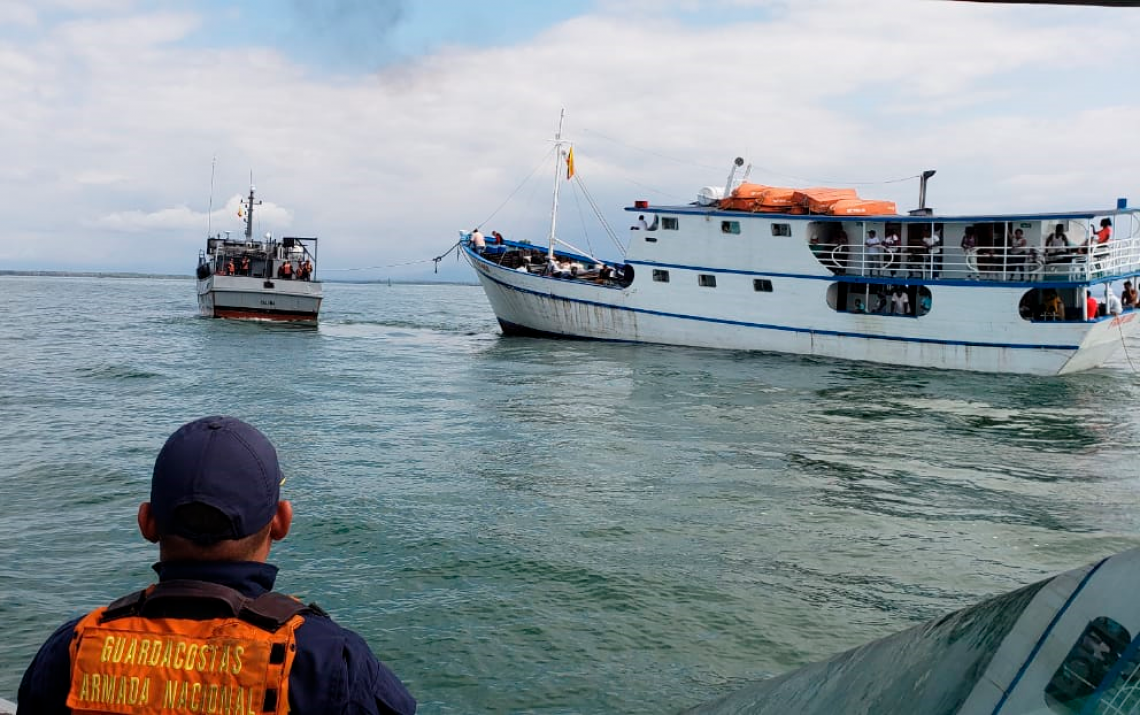 In the department of Valle del Cauca, the units of the Pacific Naval Force carried out maritime control operations when they received the call of the ship "Fran Luis" that had left Satinga in the Olaya Herrera municipality, in the department of Nariño, towards Buenaventura, in Valle del Cauca, with 40 people on board; 6 were part of the crew and 34 were passengers.
The boat presented a problem in the propulsion engine. Immediately, the Pacific Naval Force sent a Coast Guard unit from Buenaventura that made the initial review, later a Navy ship assisted the motorboat and towed it to the entrance of Buenaventura in the harbor bay, in order to try to solve the navigation problems.
Later, the Coastguard Station of Buenaventura received a call of the community of Juanchaco, in which they required the support to evacuate an inhabitant of the sector due to a fracture in his right leg. The Coast Guard personnel moved him to the port of Buenaventura where he waited for an ambulance that took him to a medical center.
Finally, the troops of the Marine Infantry Brigade No.2 in the sector of Cabo Marzo in the municipality of Juradó in the department of Chocó, found the boat "Luz" with 12 people on board, 9 were tourists, who had completed two hours adrift due to mechanical failures. The crew of the boat upon noticing the presence of the military personnel gave notice and requested assistance.
After trying to solve the problem without success, the National Navy taking into account the difficult meteorological conditions of the area, towed the boat initially to the municipality of Juradó. Due to the change of tide, the boats could not enter the municipality and the military unit had to move the boat and people onboard to the area of ​​Punta Ardita, where they entered without problems, leaving them safe and sound on the mainland.
Source: National Navy.