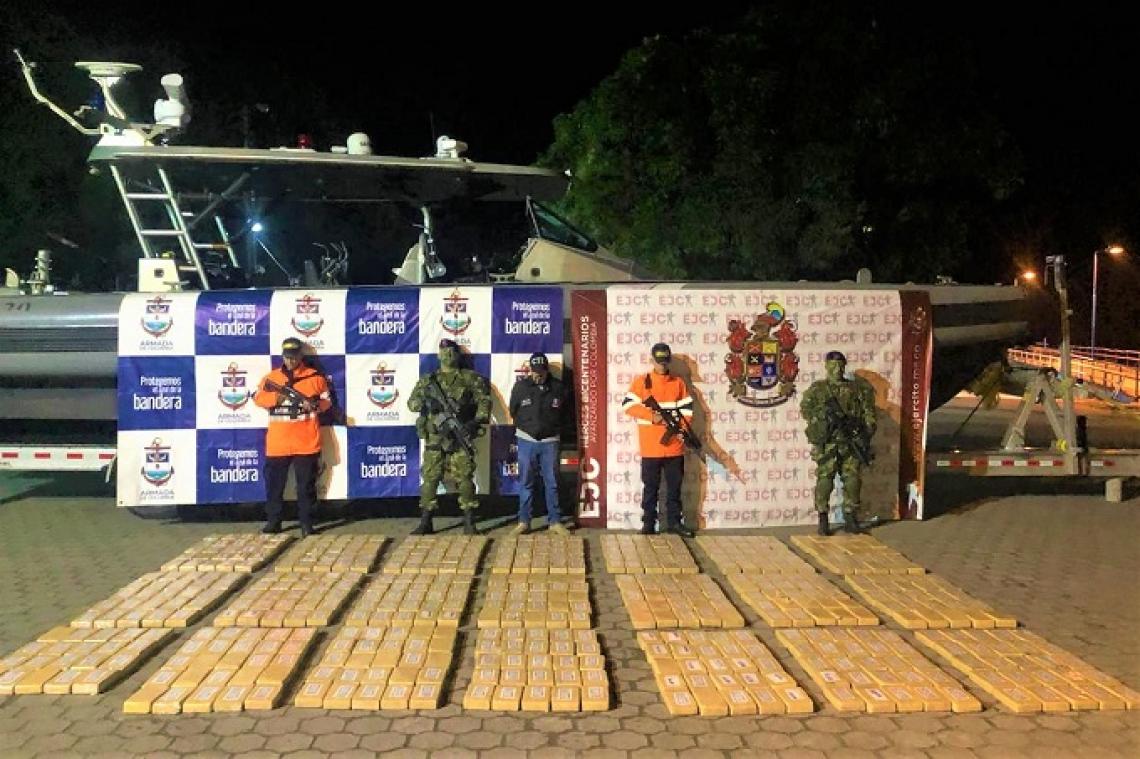 The Colombian Navy in Joint operations with the Army and the Air Force, and combined with the United States, managed to find more than one ton of Cocaine Hydrochloride in waters of the Pacific Ocean, in Tumaco, in the department of Nariño.
The first operation was carried out thanks to naval intelligence information and the rapid reaction of units of the Tumaco Coast Guard Station, by means of the maritime interception of two ships, whose crew upon noticing the presence of the military decided to scape towards the sector known as Gallo Island, leaving the boats abandoned.
Immediately, members of the Army counter narcotics Battalion flew over the area and, by air assault, inspected the boats, finding 26 black bags that contained 521 kilograms of Cocaine Hydrochloride, which was extracted and transported to the Coast Guard Station, where the respective Preliminary Identification Test, was conducted.
Simultaneously in the second operation and giving continuity to maritime control operations, units attached to the Pacific Naval Force in conjunction with the Air Force and with the participation of the United States, and thanks to naval intelligence information, found 45 sacks of alkaloids that were floating in the Southern Colombian Pacific in the department of Nariño.
The aircraft detected a suspicious ship, which when noticing the presence of the authorities scaped. Once the chase begins, and after navigating 160 nautical miles, the Colombian Navy Units finally found the illegal shipment.
Sacks of different sizes, containing 884 kilograms of cocaine hydrochloride, were found and put into custody of the Technical Investigation Corps of the Attorney General's Office.
These operations found 1,415 kilograms of alkaloids, by more than 45 million dollars. During the year, the Pacific Naval Force has found more than 114 tons of this illicit substance, successfully hitting drug trafficking organizations.
Source: Colombian Navy