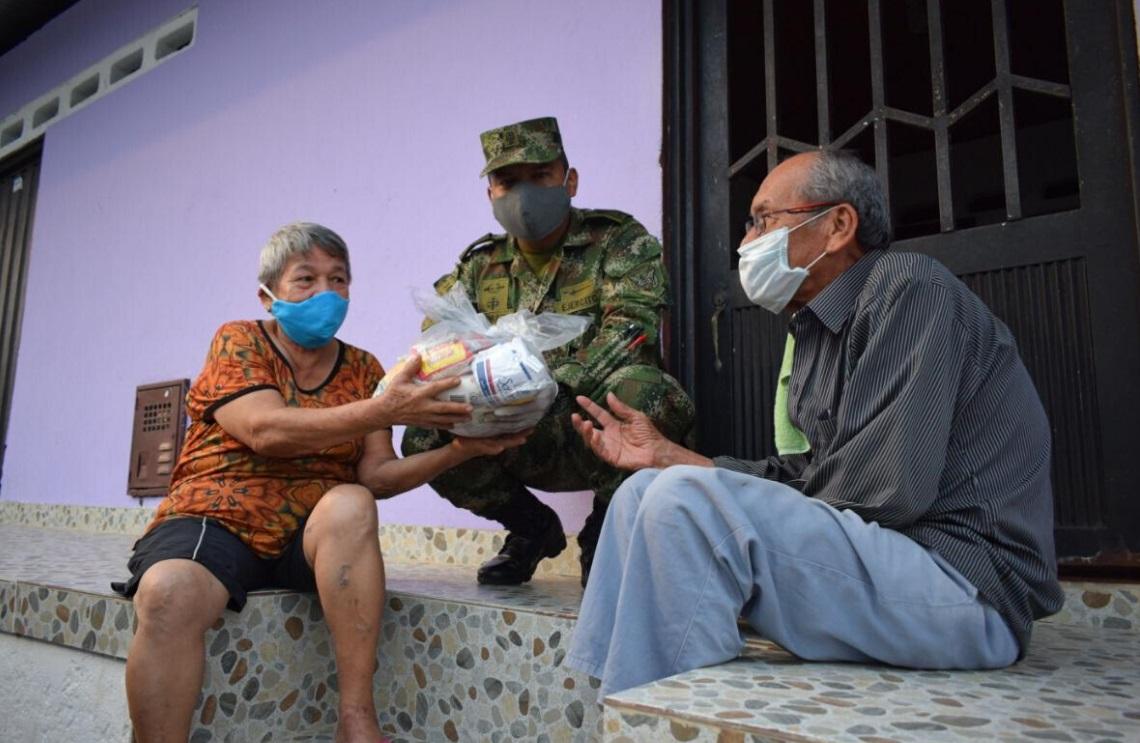 The activities of the Comprehensive Action and Development Support Battalion No.6 have been focused on providing humanitarian assistance to Colombians and on preserving the military forces' good physical conditions.
Thanks to the union of efforts with institutions and non-governmental organizations in the departments of Caquetá and Putumayo and within the framework of Operation San Roque, which is aimed at protecting the community during national confinement to stop the expansion of the covid-19, the National Army has been carrying out Comprehensive Action activities in these territories.
Thus, since March 19, this unit and the Fe en Colombia program have supported the distribution of 759 food baskets, made up of basic products of the family basket to indigenous communities and vulnerable communities in the municipalities of Florencia and La Montañita, Caquetá, and in Mocoa, Orito and Valle del Guamuez, Putumayo, which were donated by Club Rotary International, the San Ángel Foundation, Professional Officers of the Reserve and two Colombian singers residing in England.
In the same effort to provide humanitarian assistance to the inhabitants, 475 families from four settlements in Florencia, Caquetá, received rations of packed bread distributed by the private company and the Colombia Estéreo station of the National Army. In the same way, in coordination with the offices of the social managers of the 16 municipalities of Caquetá, four tons of chicken were distributed to inhabitants of these localities.
93 activities have been carried out through loudspeakers, a "Traffic light" plan and checkpoints with messages such as: "Remember to wash your hands, keep your distance and stay home", to raise awareness in the community about the importance of putting into practice the rules of asepsis in order to prevent the spread of covid-19.
These operations are part of the Defense Support operations of the Civil Authority by the soldiers of the National Army who with glory and honor seek to help the most vulnerable inhabitants in emergency situations such as the one caused by the pandemic.
Source: press - Comprehensive Action and Development Support Command - CAAID