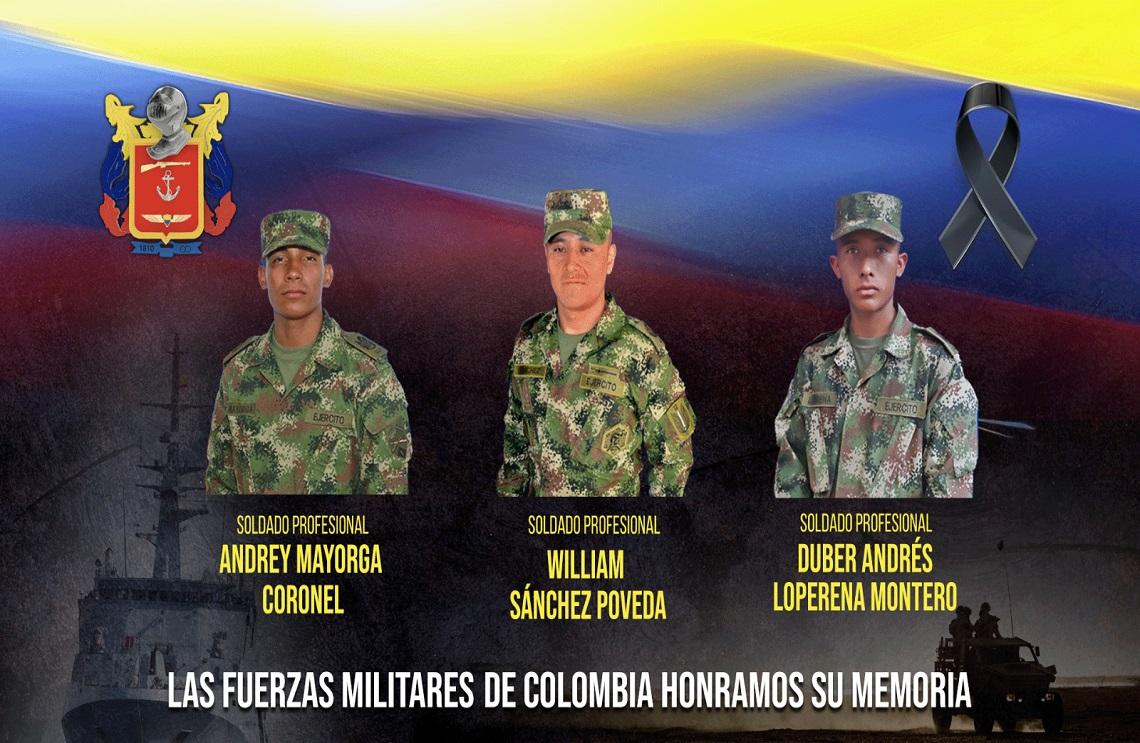 November 17, 2023. Regarding the events that occurred this Thursday, November 16, 2023, where three of our soldiers of Colombian National Army were killed and two more were injured by members of the Structure 36 and the Dagoberto Ramos Front of the so-called Central General Staff of the FARC-EP in the Departments of Antioquia and Cauca, the General Command of the Military Forces informs:
1. In the area where the events took place, Colombian National Army troops were conducting territorial control operations and institutional work, to provide security to the inhabitants of the region.
2. These violent events strike the Temporary Bilateral Ceasefire of a National Nature with Territorial Impact (CFBTNT in Spanish) established in Decree 1684 of 2023, issued by the National Government and will be brought to the International Component that is part of the peace dialogue table, so that the corresponding measures be adopted.
3. The two operations committed, planned and perpetrated by the Central General Staff of the FARC-EP, can be considered serious breaches of the CFBTNT and are cowardly acts that today mourn not only three families, but an entire country and the Institution.
4. The specialist soldiers José Sánchez Poveda, Dúber Loperena and Andrey Mayorga will be given with military honors in their places of origin thus highlighting their sacrifice and work for a great, respected and free Colombia.
5. The Military Forces reject and condemn these cowardly acts clearly contrary to the commitments with the National Government. The Institution will maintain its firm constitutional commitment in the effort to promote safety and well-being of the inhabitants throughout the National territory.