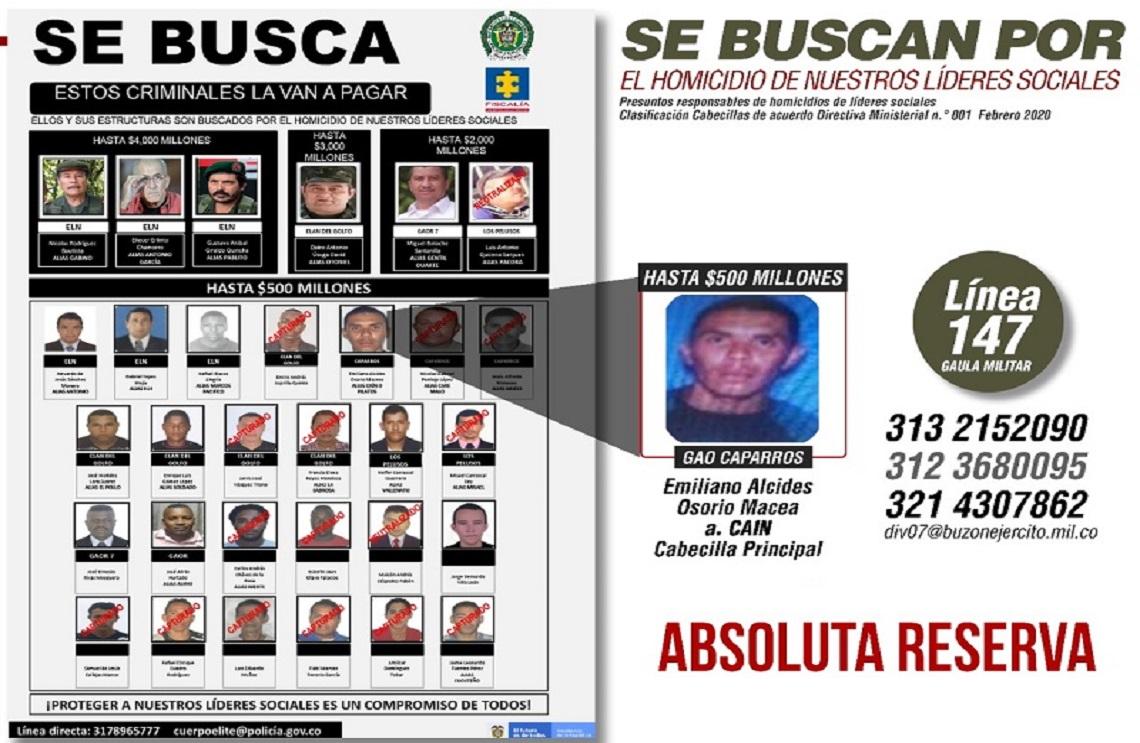 This individual would be responsible for the murder of social leaders and vulnerable people in the Lower Cauca region, in Antioquia, and he is on the most wanted list.
The National Army, in coordination with the Colombian Air Force, the National Navy and with the support of the National Police, the Office of the Attorney General of the Nation, and attending to the recommendations of the early alerts from the control agencies, through the integrated system of protection, promotes an important reward for the main ringleader of the Organized Armed Group Los Caparros, identified as alias Cain or Pilatos, who has ordered criminal operations against civilians and the Security forces.
This ringleader and his armed structure are known for attacking the lives of vulnerable leaders and vulnerable people; For this reason, through a campaign of economic stimuli, the national government and the Ministry of Defense have raised the reward for alias Cain or Pilate to 500 million pesos.
People who have valuable information to find the whereabouts of this criminal may contact the telephone lines 147, 3132152090, 3123680095 and 3214307892. Absolute reserve will be maintained.
On alias Caín or Pilatos there is an arrest warrant in force at the Office of the Attorney General of the Nation, for the crimes of conspiracy to commit a crime, aggravated homicide and manufacture, trafficking and carrying of firearms.
The troops maintain the operation against this organized armed group, with the aim of weakening its command and control, financial and logistical structures. This year the capture of two of their ringleaders, alias el Político and alias Falcao, who were in charge of recruiting minors, has been achieved. To date on this GAO, 53 captures have been made, 13 people have been brought to justice, four of its members were killed in the course of military operations, and two minors were recovered.
Source: National Army - News Agency