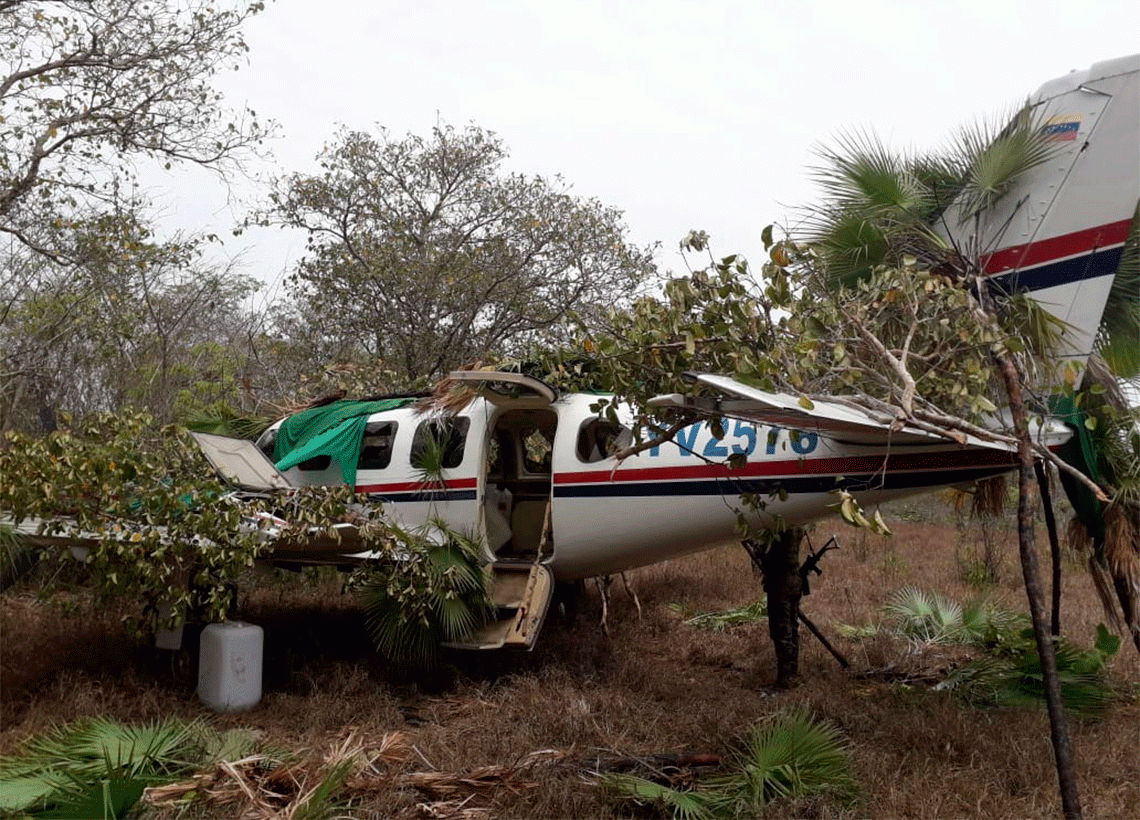 In the frontal fight against drug trafficking that the Colombian Air Force is carrying out, important results were possible within the framework of the Exercise of Binational Air Interdiction conducted by the Republics of Colombia and Guatemala 'COLGUA II' where the neutralization of three illegal aircrafts, which were monitored and followed by more than 48 hours, was possible. In the same way images of more than 25 illegal tracks were obtained and one of them was the destroyed and four illegal boats were tracked in Guatemalan territory.
The operations were carried out in the Caribbean from March 28 to April 8, 2019, joining air defense capabilities of the two countries, which interoperated for the interdiction of illegal aircrafts and the destruction of infrastructure of drug trafficking in Central America.
For this exercise there was planning, intelligence and operations component of the Colombian Air Force, with SR platform aircrafts deployed in Guatemala and the control checkpoint in the Caribbean Air Group - GACAR. For its part, the Air Force of Guatemala, participated with three aircrafts, a helicopter and its special forces.
These operations reflect once again the efforts of the Colombian State, through the COLOMBIAN AIR FORCE to intercept drug trafficking, even outside the borders, thanks to bilateral relations with Guatemala, and cooperative spaces that have been constructed to facilitate this type of operations, with the support of the Government of the United States, thus neutralizing common threats.
Brigadier General Timo Hernández Duarte, Commander of the Guatemalan Air Force and Brigadier General Pablo Enrique García, Air Operations Commander of the FAC, made a positive assessment of this exercise, which in the same way updated procedures, techniques and tactics for air interdiction.
ADDITIONAL INFORMATION:
TANGIBLE RESULTS:
44 illegal tracks detected, 01 illegal track destroyed, 04 boats detected, 03 aircrafts neutralized, 03 legal proceedings for 03 illegal tracks and tracking of 04 suspicious ships, 02 individuals captured.
INTANGIBLE RESULTS:
- Average reduction from 08 illegal traffic flights, transporting 3 tons of drugs, to 03 flights.
- Illegal maritime traffic was reduced to zero.
-It was possible to count on the participation of the Air Force of Mexico, who, when knowing of the missions COLGUA, it participated with 02 AEW aircraft, type Embraer 145, and 02 UH60 in border area, opening doors to the process of cooperation agreement with Colombia.
-Finally it was possible to standardize procedures conducted by the COLOMBIAN AIR FORCE and the FAG, maintaining our ability to operate outside our territory. The high level of commitment and operational level of our crews helps the COLOMBIAN AIR FORCE to be a regional reference to countries in Central America and the Caribbean in the fight against drugs.
Source: Colombian Air Force