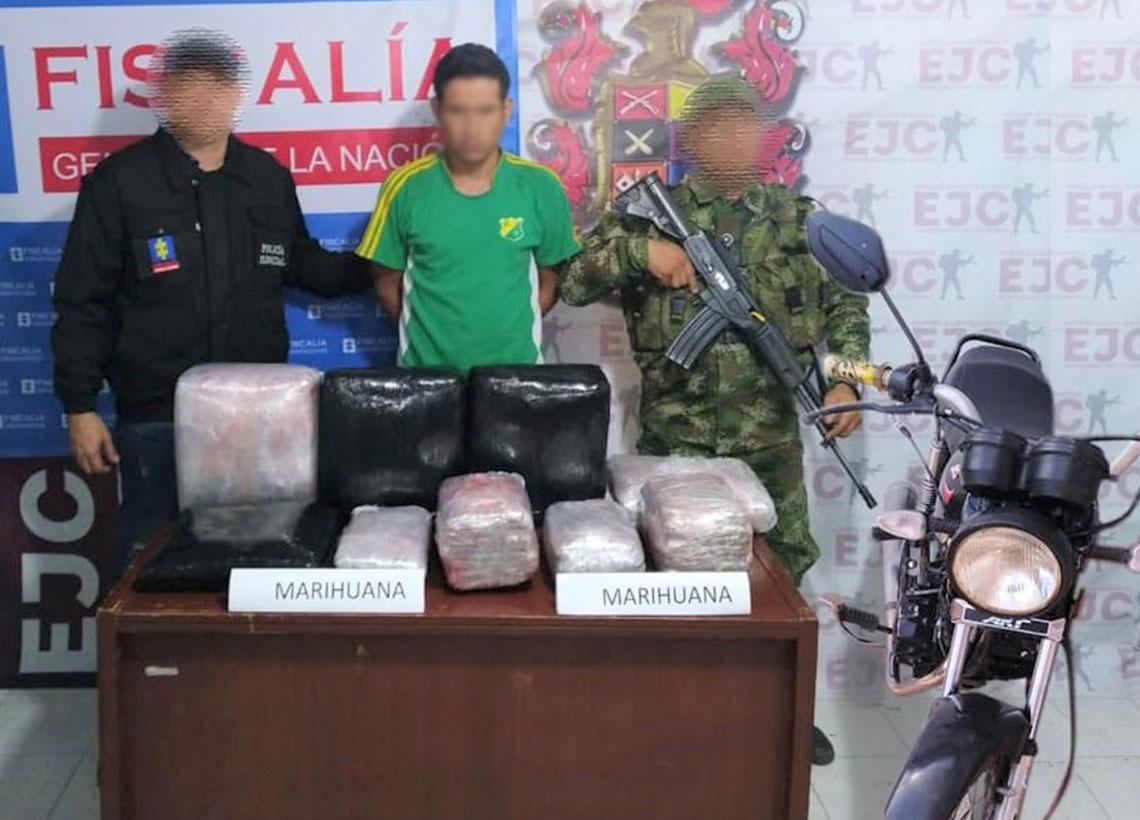 The individual circulated by the route Guadualejo, Cauca – Neiva, Huila.
Once again the permanent operations carried out by troops of the Infantry Battalion No.26 'Cacique Pigoanza' of the Ninth Brigade, could damage the drug trafficking business that criminal groups perpetrate, this time thanks to the discovery of 28 kilos of export type marijuana.
The operation that resulted in a capture, the discovery of the illicit substance and a motorcycle, was supported by the CTI (Technical Investigations Corps), the unit in charge of judicial proceedings.
The operation was reported in the village El Dinde, in the municipality of La Plata, west of Huila; there, the troops made the stop sign to a man who travelled on an AKT 125 motorcycle, carrying two black bags.
After the inspection of the belongings, it was possible to establish the individual was transporting nine packages of different sizes wrapped in black and transparent plastic; these nine sacks contained 28 kilos of Creepy marijuana.
According to preliminary investigations, the hallucinogen would have been loaded on the Gaudalejo village of the municipality of Páez, in the department of Cauca, and would have as destination the city of Neiva in the department of Huila, where the drug would cost 33 million 600,000 pesos, which would triple if it is taken into account that it can be distributed by dose.
Firearm finding
Permanent operations in the area in the same way led to the discovery of a rudimentary 38 mm gun type firearm.
The military operation was possible thanks to the permanent checkpoints, this time in the Casarrosines village sector of the municipality of La Plata in the west of Huila; there, a man who was moving on a motorcycle at high speed, noticing the presence of the troops, left the bag, turning around to escape.
Colombian soldiers do not save efforts and work permanently to guarantee the safety and well-being of Colombians.
Source: Ninth Brigade - National Army