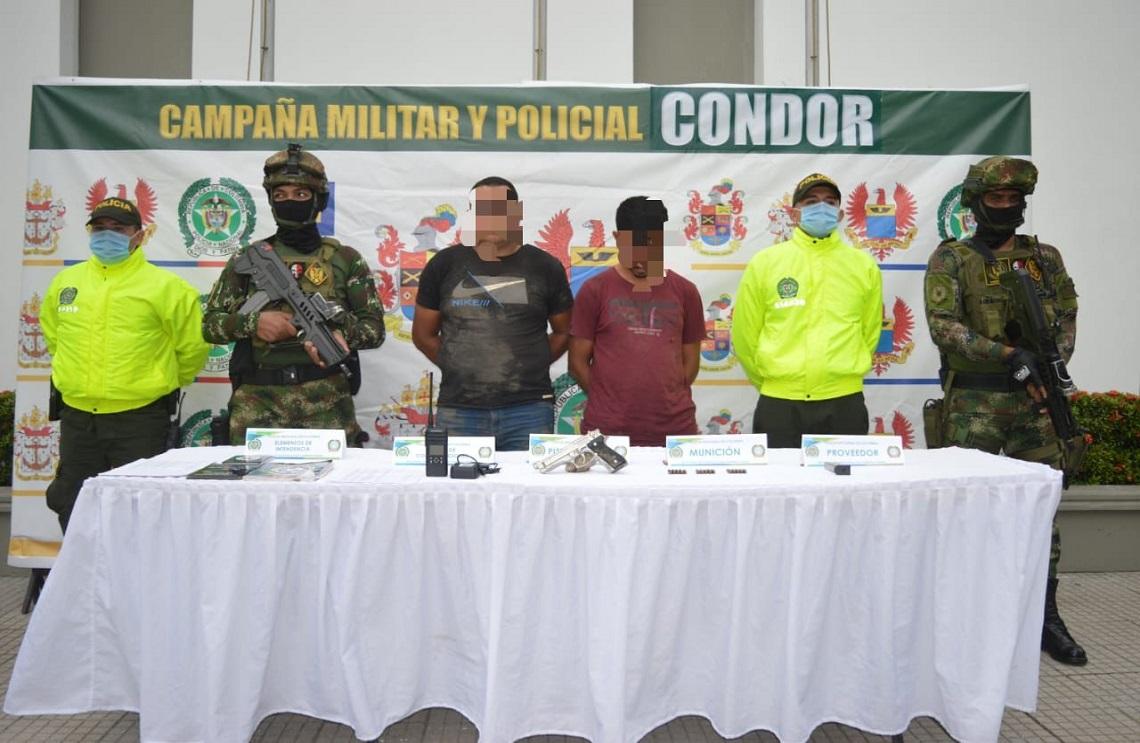 This individual would allegedly be the mastermind of the terrorist operation perpetrated on June 30 in the village of Puerto Galleta, in the municipality of Turbo, where soldier Iván David Díaz Rodríguez was vilely murdered and three more soldiers were injured, when a tertiary road of this municipality was being built.
Through military operations framed in the Condor Plan, the National Army and the National Police managed to arrest Alias Caballo and his personal guard, who appeared in the most wanted list in the Urabá subregion.
The military operation was carried out in the Caraballito village of the Turbo municipality, Antioquia, where the soldiers of the National Army arrived with members of the Police, to arrest this individual and his right hand. During the military operation, a Prieto Bereta pistol, 15 cartridges for it, a magazine, communication equipment and documents of interest for military intelligence were seized.
After more than two months of information and intelligence work, it was possible to establish that alias Caballo would be the armed ringleader of the zone, in charge of carrying out constant criminal intelligence to the Military Forces and National Police in the rural and urban part of San José de Apartadó, in the villages of the municipality of Turbo in Antioquia such as: Currulao, Nueva Antioquia, El Tres, Alto Mulatos, Toribio Alto, Toribio Medio and Toribio Bajo, to later carry out terrorist operations.
In addition, he would be responsible for making the payment of the so-called bell ringers in other areas of the region and the armed component in the territory and the illicit handling of communications, where he coordinated criminal operations against civilians and Military Forces.
At the age of 32, alias Caballo had a criminal record of more than eight years in illegality, in which he became zone ringleader of the Central Security substructure of the aforementioned illegal organization.
This result significantly hits this criminal structure that threatens the tranquility of the Urabá subregion. The arrested and the war materiel were put into custody of local authorities, while the National Army troops throughout the region continue to carry out sustained operations against the different organized armed groups that commit crimes in this area of the country.
Source: Press - National Army