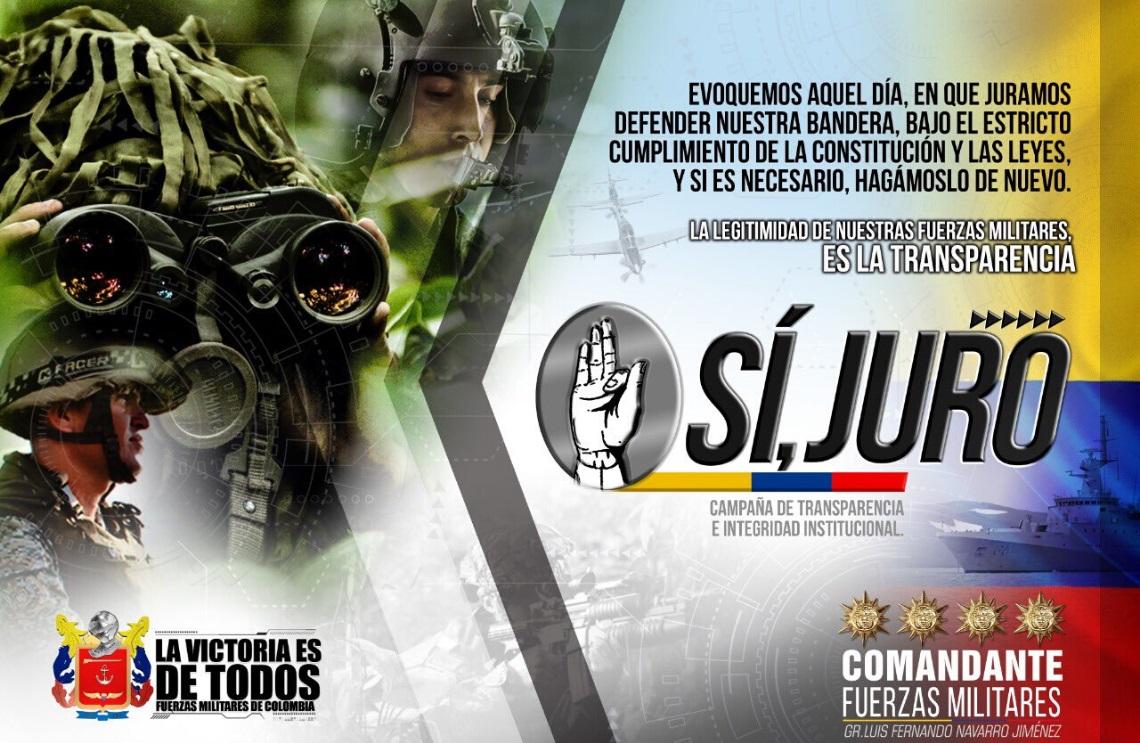 In order to strengthen the culture of Integrity and transparency, to be followed in compliance and execution by all members of the military institution, the General Command of the Colombian Military Forces introduces the 'Yes, I swear' campaign.
This campaign, whose purpose is to motivate strict compliance with the National Constitution and the laws, aims, under the slogan 'Yes, I swear', to evoke that sublime moment of the pledge to the flag, in which the soldiers of the land, sea, air and river, promise obedience and fidelity to the Colombian people.
The institutional campaign is framed in the guidelines established in the Institution's Manuals and Codes of Ethics, which have always promoted a philosophy of rectitude and good behavior of the military and non-military members, for the implementation and transversal deployment in all administrative, logistical and operational processes.
In this sense, it seeks to strengthen the knowledge of the Joint Strategy for the Implementation of Rules of Transparency and Ethics of the Military Forces, the promotion and awareness of institutional principles and values ​​and the motivation to denounce possible situations that attempt against the legitimacy of the Institution.
In the same way, the Military Forces will implement more operations in order to strengthen traceability and transparency in intelligence, counterintelligence operations and contracting activities, which will improve the processes framed in compliance with the constitutional mission.
In this sense, we communicate the following five decisions:
1. The position of Delegate Inspector for Intelligence and Counterintelligence is created in each of the Branches, with the specific mission of inspecting in a specialized way the Intelligence and Counterintelligence processes, guaranteeing the faithful fulfillment of the mission, the Constitution, the Law Intelligence and regulatory decrees.
2. Implementation of the "Joint Strategy of Integrity and Transparency for the Military Forces" with three lines of operation focused on promoting prevention, strengthening control and maintaining the Zero Tolerance policy against corruption.
3. Standardization of the certification of compliance of the credibility and reliability study of the personnel aspiring to enter the agencies and dependencies of Intelligence and Counterintelligence of the Military Forces, implementing tests with priority on sensitive and critical positions, before November 30, 2020.
4. Modification of the evaluation standards that guarantee suitability, transparency and credibility during the time. In the same way, the control, evaluation and monitoring mechanisms of those who are part of this subsystem will be reviewed under the principles of Integrity and legality.
5. Strengthening of the institutional channel 163 Line of Honor to optimize the process of receiving denunciations about alleged cases of corruption and irregular conduct, in accordance with the provisions of article 39 of Statutory Law 1621 of 2013. This line will maintain direct communication with the General Inspectorate of Military Forces.
Our commitment is to maintain transparent Military Forces, which over more than 200 years of service to the Homeland have felt the support, trust, credibility and respect of all Colombians.